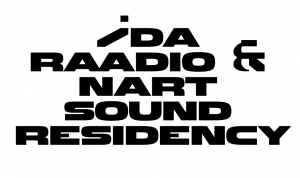 IDA Raadio and Narva Art Residency are happy to announce the open call for their first collaborative sound residency for musicians, music producers and sound artists coming from the Baltic States and United States of America.
This is a collaborative residency, meaning that two artists will be selected (one from the Baltic States and one from the US) who will work together at Narva Art Residency for two weeks in September 2019.
There are no restrictions or obligations, but we expect the artists to spend some time together in the studio and share their process and possible outcome in the end of the residency – a new piece of music, performance or something completely different in the field of sound-art. We encourage professionals as well as emerging sound artists to apply.
How to apply?
To apply please send a link to your previous work and a cover letter (max 1000 characters) to hello@idaidaida.ee, subject line "Sound Residency: Your Name".
Timeline
The deadline for the application is June 26th, the results will be public July 1st.
Period for residency: End of August – End of September
Performance: 21st of September
More information: https://idanart.netlify.com/