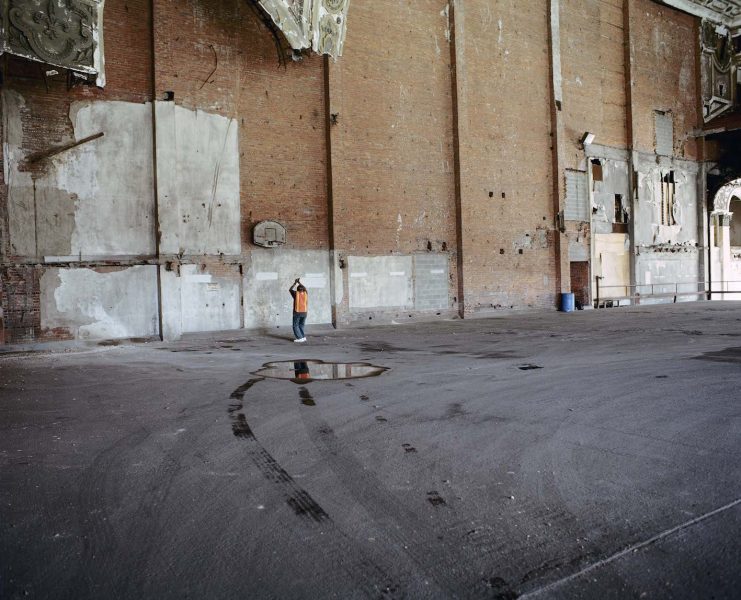 ON THE VERGE OF POST-INDUSTRIAL ROUTINE.
IN A SEARCH FOR AN ALTERNATIVE PLANETARY SET-UP AND TRAJECTORIES OF DEGROWTH
Photo: Antonio Rovaldi
From the series of illustrations for the book "Detour in Detroit" by Francesca Berardi, 2015
You are welcome to join a conversation with the TOK curators Anna Bitkina and Maria Veits from St. Petersburg – both at NART (Joala 18, Narva), or online via Zoom Meeting! The conversation will be accompanied by the artist Maria Kapajeva and the director of NART Ann Mirjam Vaikla. It is the final event of the (Re)configuring Territories Research Residency 2021.
PROGRAMME
17:45-18:00 Gathering (2nd floor cinema hall, NART)
18:00-19:30 Conversation and Q&A
Nb! The exhibition POINT OF NO RETURN. ATTUNEMENT OF ATTENTION will exceptionally be opened to the visitors from 15.00 on that day.
Join Zoom Meeting: https://us02web.zoom.us/j/81547427503
The event will be in English with Estonian and Russian introduction. The event will be recorded.
Free entry!
Location: NART, 2nd floor cinema hall
The starting point for the upcoming conversation will be prevailing industrial and economical conditions of the city of Narva and beyond, which TOK curators have been exploring during their residency (Re)configuring Territories in May and June 2021. By discussing a variety of post-industrial contexts and sites, we will integrate the economic, manufacturing and architectural processes of decay of the Ida-Viru region into a wider geographical and conceptual framework. Heavy industrial processes have left often irreparable marks and traces on local landscapes, demographics, health and memory of human and non-human inhabitants of regions, whose environments were affected by the rise and fall of the industrial economy. Changing conditions of industries, exhaustion of resources, and new requirements of ecological policies have led to closure of many production sites which made many people relocate and reconsider and reconfigure their dreams, hopes and future prospects at the territories that now serve as markers of post-industrial capitalism. The event will aim at revisiting several art and research projects from different geopolitical locations that deal with the questions of social and economical aftermath of industrial processes, post-colonial economies, environmental damages and political ecology in order to create sensory and intellectual response to radical breaking of life.
THE CREATIVE ASSOCIATION OF CURATORS TOK is a curatorial duo founded in St. Petersburg by Anna Bitkina and Maria Veits in 2010 as a platform for research projects at the intersection of contemporary art, social sciences and socially oriented design. As a nomadic collective working between Russia and Europe, the Middle East and the United States, TOK curators place their practice between historical analysis and political imagination. Their multilayered, durational and cross-disciplinary projects generate new knowledge about the causes and consequences of changing political realities. TOK investigates mechanisms of post-Soviet public space and modern cities, collective memory and amnesia, the transformation of social institutions, including education and local governance, media and strategies for managing public opinion. TOK curators have been invited to Narva Art Residency as part of the (Re)configuring Territories residency programme.
MARIA KAPAJEVA is an artist who works between the UK and Estonia. Her work often highlights peripheral histories and unspoken stories, focusing on the representation of women. Her work was internationally exhibited including the most recent: The Finnish Museum of Photography (2021), The Tallinn Art Hall Gallery (2020), Lithuanian Gallery of Photography (2020) and Latvian Museum of Photography (2019). Her video works screened at VAFT (Finland, 2020), Luminocity Festival (Canada, 2018), NexT Film Festival (Romania, 2017) and Berlin Feminist Film Week (2016). Her artist book Dream Is Wonderful, Yet Unclear, published by Milda Books in 2020, got Krazsna-Krausz Photo Book Award.
ANN MIRJAM VAIKLA is an artist and curator and has been the director of Narva Art Residency (NART) since 2017. Her practice lies in the intersection of performing and visual arts working within various contexts at galleries, theatres and public spaces in Estonia and internationally. Nominated for a CEC ArtsLink scholarship she is researching the role and potential of social sculpture drawing inspiration from her experience at NART, working mostly on curatorial projects that involve community engagement (Point of No Return. Attunement of Attention, 2021; WEEDS FEED!, 2021; Narva Urban Lab projects (Re)configuring Territories, 2019, and Narva–Detroit: Postindustrial Cities on the Border – Where to?, 2018).
(RE)CONFIGURING TERRITORIES is a three-year programme (2019, 2021—2022) organized jointly by the Finnish Institute in Estonia, Narva Art Residency and Trojan Horse. Programme is curated by Tommi Vasko and Kaisa Karvinen and supported by the Finnish Institute in Estonia and Kone Foundation.
related artists