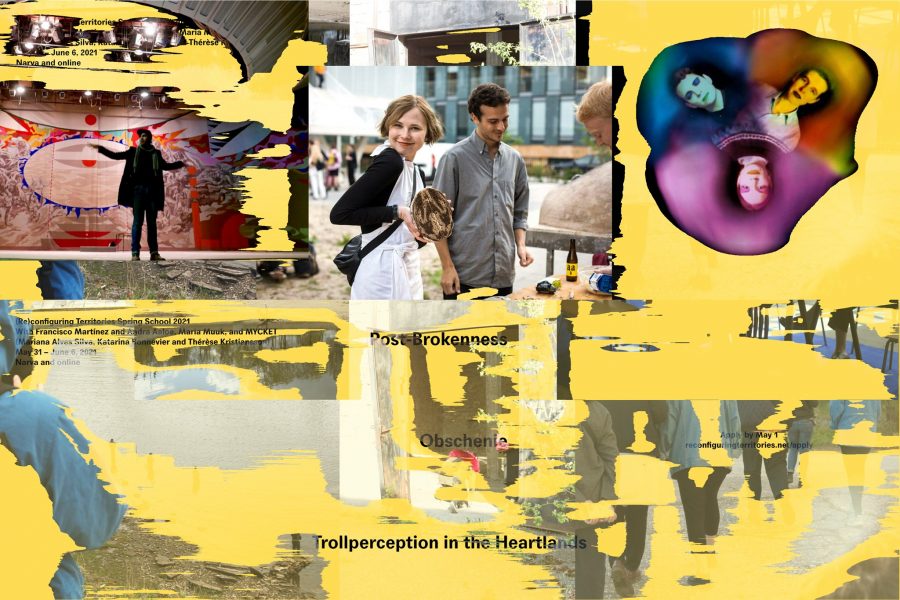 (Re)configuring Territories Spring School 2021
With Francisco Martínez and Andra Aaloe, Maria Muuk, and MYCKET (Mariana Alves Silva, Katarina Bonnevier and Thérèse Kristiansson)

May 31 – June 6, 2021
50€ / 0€
(Re)configuring Territories programme continues as a week-long Spring School on May 31 – June 6, 2021. The Spring School consists of three simultaneous workshops mentored by anthropologist Francisco Martínez and urbanist Andra Aaloe, graphic designer, baker and writer Maria Muuk, and architecture, art and design practice MYCKET.

POST-BROKENNESS
In the Post-Brokenness workshop led by Francisco Martínez and Andra Aaloe, participants will study how personal and collective relationships are sustained in relation to maintenance and repair practices. This programme opens up a wide range of questions about recuperation, care-taking, and sustainability by focusing on how life goes on even in a context characterised by negative capability and exhausted ecologies. The workshop can host 5 presencial participants at Narva and will consider the possibility of also having a few participants online.

OBSCHENIE
In the Obschenie workshop led by Maria Muuk, participants will set out to feed themselves and the whole group. This necessity will be used as an excuse to explore habits and preferences that start with food and dining but tell a lot about class, cultural backgrounds, feelings of home and political inclinations. The workshop prefers to host 5 participants at Narva (as part of the workshop involves cooking dinners together) and a few participants online.

TROLLPERCEPTION IN THE HEARTLANDS
In the Trollperception in the Heartlands workshop led by MYCKET, participants are invited to delve into trolls, spirits, and animism together, joining the pack, and craft together, while simultaneously mediating and sharing these artworks through filmed animations – investigating what new and unforeseen knowledge can be derived from the process itself. The workshop can host 5 participants online.
We will observe the Covid-19 situation in Eastern Estonia and in case coming together physically is not possible we reserve the possibility to organize all the workshops remotely.

Spring School registration fee 50€ (only for the participants who join a workshop physically in Narva) covers a workshop, three vegan meals a day, and accommodation at the residency. Remote participation in the workshops is free of charge.
The due date for the Spring School applications is May 1, 23:59 (EEST), 2021. The final selection is announced by May 5.Apply by filling the form at:
https://reconfiguringterritories.net/apply/