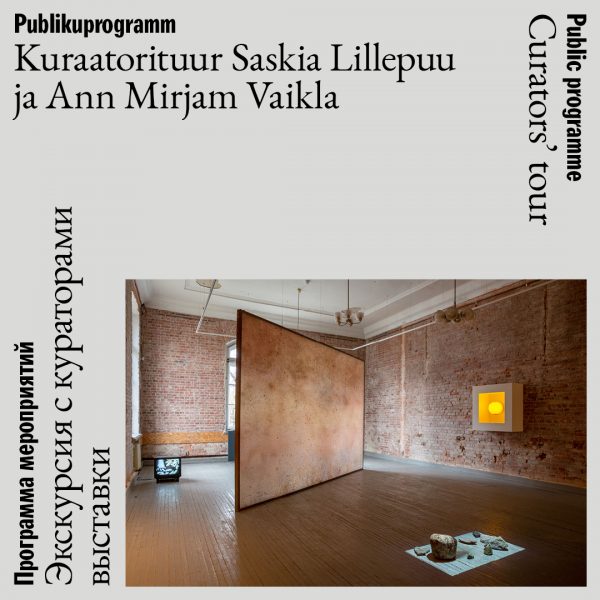 Guided tour with exhibition curators Saskia Lillepuu and Ann Mirjam Vaikla. More information about the exhibition can be found HERE.
N.B. Due to Covid-restrictions we kindly ask you to register your attendance by filling out THIS FORM.
Sunday 30.05
15:15 – 16:45 in Estonian
Saturday 05.06
14:00 – 15:00 in Estonian
Sunday 20.06 – last day of the exhibition!
14:00 – 15:00 in English
Ann Mirjam Vaikla (b. 1990) is an artist and curator and has been the director of Narva Art Residency (NART) since 2017. Her practice lies in the intersection of performing and visual arts working within various contexts at galleries, theatres and public spaces in Estonia and internationally. Nominated for a CEC ArtsLink fellowship, she is participating in a multi-year residency programme at the Triangle Arts Association and Grand Central Art Center in the US where she is researching the role and potential of social sculpture. In her research, she draws inspiration from her experience at NART, working mostly on curatorial projects that involve community engagement (WEEDS FEED!, 2021; Narva Urban Lab projects (Re)configuring Territories, 2019, and Narva–Detroit: Postindustrial Cities on the Border – Where to?, 2018). She studied Scenography (BA) at the Norwegian Theatre Academy and Culture and Arts (MA) at the Novia University of Applied Sciences in Finland.
Saskia Lillepuu (b. 1986) combines anthropological sensibility, curating and non-fiction writing in her creative practice, sensing through potential contact points between anthropology and contemporary art. Her current interests are the ways humans perceive, deal with and address the global ecological crisis, along with the challenges it brings to our habitual human ways. Some of her companions in this research are post-humanist thinkers and the corporeal knowledge of non-normative bodies. Art as practice, as a way of inhabiting the world and its social role are topics that have interested her since her anthropological fieldwork in the audiovisual art scene of Barcelona in 2012–2013. She studied Social and Cultural Anthropology at Tallinn University, Visual Culture Research and Social and Cultural Anthropology at the Australian National University. Currently, she is enrolled at the Estonian Academy of Arts in the Curatorial Studies MA programme.