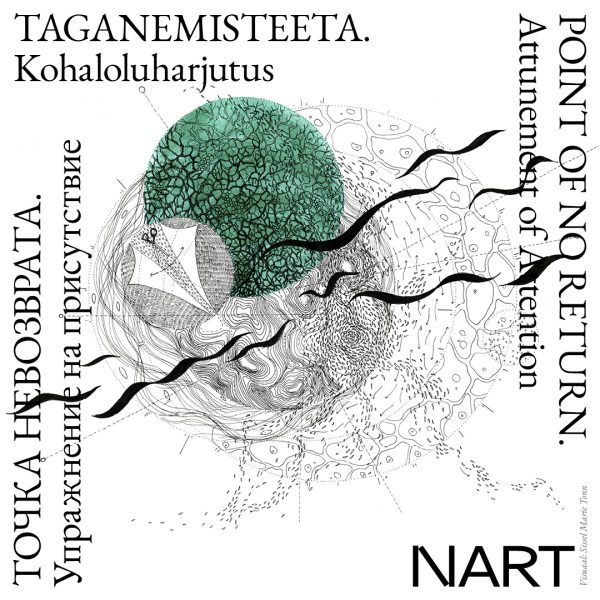 POINT OF NO RETURN. ATTUNEMENT OF ATTENTION
International group exhibition with Saara-Maria Kariranta, Hans Rosenström, Marit Mihklepp, Felipe de Ávila Franco, Alma Heikkilä, Hannah Mevis, Pia Arke, Juss Heinsalu, Manfred Dubov, Flora Reznik, Sissel Marie Tonn, Melanie Bonajo, Anne Noble, Nina Schuiki, Vera Anttila, Sepideh Ardalani, Sandra Kosorotova
Exhibition curators: Saskia Lillepuu & Ann Mirjam Vaikla
Education programme curator: Kerttu Juhkam
Film programme curator: Piibe Kolka
24 April – 20 June 2021
We open the doors to the public from May 3, following the government's coronavirus restrictions. We also kindly ask all visitors to wear a mask.
Public programme 29 May – 20 June 2021: https://www.nart.ee/en/events/
NART – Narva Art Residency
Joala 18, 20103 Narva
Hours: Mon, Tue, Sat 11-17; Fri, Sun 12-19; Wen, Thu – Closed
Cycles of production and consumption amplify the environmental trouble pulsating throughout the planet. Ghosts from modernity, imbued with human-centric desires for progress and novelty keep haunting landscapes, our bodies and minds, shaping current ways of life and being. Narva Art Residency's annual exhibition 2021 Point of No Return. Attunement of Attention turns to the entanglements of life and death in times of ecological distress.
The international group exhibition brings together works by 17 artists in the historical Kreenholm district, home to what once was the largest textile mill in Europe. The artworks encourage prolonged attention to human and other-than-human beings, rhythms, and worlds, in order to sense our shared vulnerability and interconnectedness, without which we would not be here.
Exhibition includes several commissioned artworks, created by Hans Rosenström (Ghost in the Room), Marit Mihklepp (Mineral everybodies), Juss Heinsalu (standby replacement redundancy), Sepideh Ardalani & Sandra Kosorotova (garden for death). The works have been developed during physical and virtual residencies and multiple site visits to NART. The exhibition catalogue includes commissioned essays by the curator and writer Tanel Rander (The Itch) and by the ambassador for climate and energy policy Kaja Tael (Life in transition era) in addition to the essays by the project curators: Saskia Lillepuu (Inheriting habits, inhabiting stories), Ann Mirjam Vaikla (Third Curator), Piibe Kolka (You're running. Everyone's got holes) and Kerttu Juhkam (Igniting Conversations).
The public programme of the exhibition starts in May, the film programme in June, information about the events will be posted on NART's website and social media. The exhibition tours are led by the curators (in Estonian and English) and by the local youth of Narva (in Russian) who are participating in the educational programme.
The industrial era of Kreenholm has made us move in a tick-tock kind of choreography, where one works a certain number of hours a day, driven by effectiveness, acceleration and flawlessness. As a result, modern society, imbued with the idea of progress and driven by a desire for modernity, tends to reshape landscapes. As a consequence, it has forgotten what was there before. Elaine Gan, Anna Tsing et al. have said: "Forgetting, in itself, remakes landscapes, as we privilege some assemblages over others. Yet ghosts remind us. Ghosts point to our forgetting, showing us how living landscapes are imbued with earlier tracks and traces" [1] – therefore recognizing how every landscape is haunted by the past ways of life.
The ghosts who inhabit multispecies landscapes disturb our conventional sense of time, where we measure and manage one thing leading to another. They emphasize how besides the time of human, Western colonialism, modernity and metronomic synchrony – there is the time of bacteria, fungi, algae…[2].
– Ann Mirjam Vaikla's essay Third Curator in the exhibition catalogue
But I am already an alien. About half the cells in human bodies are bacterial, and our non-human symbionts help us develop and stay alive, keep our immune and nervous systems functioning. They make "the human" possible [3]. Without these others, these aliens, we would be "dead meat"[4]. The process of making this exhibition has coincided with a period in my life where my bodily discomfort has become more frequent and intense. I've been trying to wrap my body-mind around two parallel situations, two bodies/environments I inhabit – my uncomfortable body and the damaged planet. I weave connecting lines between the two, inspired by the artistic principle of the Greenlandic-Danish artist Pia Arke, one of the artists in Point of No Return: "I make the history of colonialism part of my own history in the only way I know, namely by taking it personally." [5]
– Saskia Lillepuu's essay Inheriting habits, inhabiting stories in the exhibition catalogue
The exhibition is supported by the Cultural Endowment of Estonia, British Council in Estonia, Nordic Culture Fund, Frame Contemporary Art Finland, NomadIT, Tallinn Art Hall, Estonian Academy of Arts, Narva Gate, Estonian Ministry of Culture, Stroom Den Haag.
Project manager: Marju Tajur
Exhibition design and installation: Valge Kuup Stuudio
Graphic design: Jaan Evart
Photos: Hedi Jaansoo
Video: Keiu Maasik
Thanks to: Aksel Haagensen, Amalie Bergstein Nielsen, Anders Härm, Anfissa Jerjomina, Annika Toots, Bruno Kadak, Dan O'Connell, Edgars Rubenis, Ekaterina Koreshkova, Elnara Taidre, Hedi Jaansoo, Ilja Dokudin, Ingel Vaikla, Jaanus Lillepuu, Jaanus Mikk, Jean Medina, Jennifer Deger, Kaja Tael, Karin Taidre, Keiu Maasik, Kirsten Einer Lillepuu, Kristopher Rikken, Liisa Hirsch, Liisi Voll, Ljubov Terukova, Margarita Skripkina, Margit Säde, Maria Vassiljeva, Maria Železnova, Marija Bolšakova, Martin Rünk, Mat Scannell, Miha Brebenel, Mirjam Parve, Polina Pappinen, Rael Artel, Rasmus Jensen, Sander Haugas, Tanel Rander, Taimi Vill, Tanja Muravskaja, Tüüne-Kristin Vaikla, Urmo Vaikla, Vadim Markov, Victoria Baskin Coffey, A-Communication Marketing, Eesti Instituut / Estonian Art, Eesti Kunstiakadeemia Tehnika Laenutus, Galerie AKINCI, Kaasaegse Kunsti Eesti Keskus, Louisiana Museum of Modern Art, MASSIA, Mustarinda Residency, Pro Av Saarikko Oy, Two Rooms Gallery.

[1] E. Gan, A. Tsing, H. Swanson, N. Bubandt, "Introduction. Haunted Landscapes of the Anthropocene," Arts of Living on a Damaged Planet. Ghosts and Monsters of the Anthropocene. Eds. A. Tsing, H. Swanson, E. Gan, N. Bubandt. Minneapolis: University of Minnesota Press, 2017, p. G6.
[2] E. Gan, A. Tsing et al., "Introduction," pp. G9–G10.
[3] S.F. Gilbert, "Holobiont by Birth. Multilineage Individuals as the Concretion of Cooperative Processes", Arts of Living on A Damaged Planet. Ghosts and Monsters of the Anthropocene. Eds. A. Tsing, H. Swanson, E. Gan, N. Bubandt. Minneapolis: University of Minnesota Press, 2017, pp. M73–M89.
[4] E. Cohen, "My self as an other: on autoimmunity and 'other' paradoxes," Medical Humanities 30, 2004, pp. 7–11, here p. 10.
[5] S. Jonsson, "On Pia Arke," Afterall 44, 2017, pp. 13–21, here p. 13.