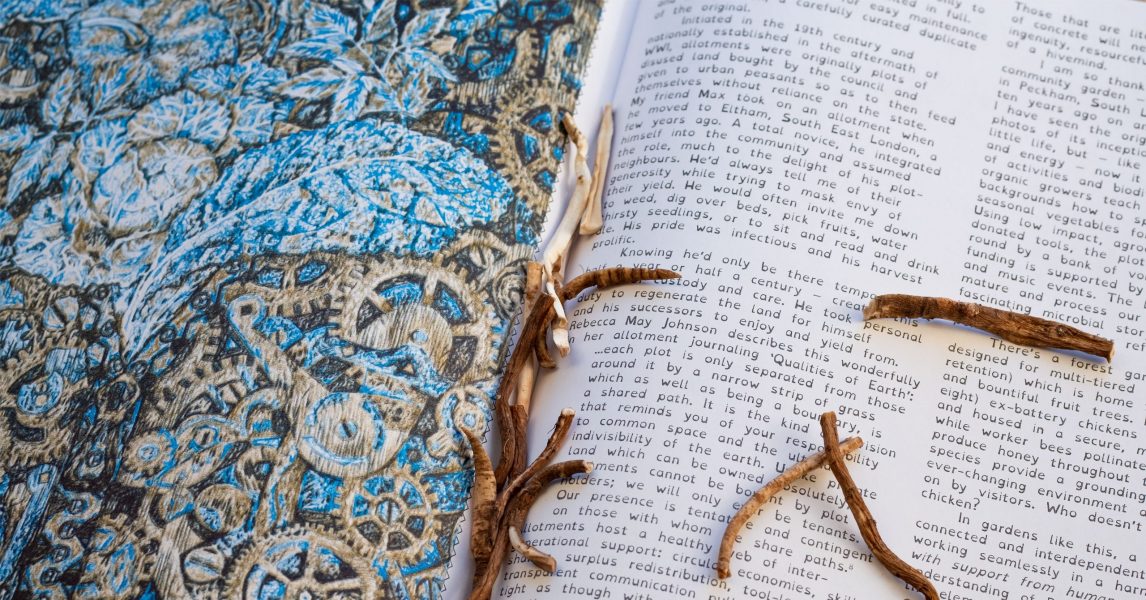 #WEEDSFEED! #SandraKosorotova #narvaartresidency #PUBLICS #TodayIsOurTomorrow
WEEDs FEED! is a 'care package' compiled and designed by artist Sandra Kosorotova.
The 'Care package' includes a bundle of herbs for tea foraged and prepared by Sandra and a publication with contributions by Sean Roy Parker, Ann Mirjam Vaikla, Olga Tjurina, Vera Lantsova, Lena Sabinina. From an in-depth study on food capitalism and land stewardship, to fermental health and the possibility of feeding each other, these pieces encompass ideas of care-taking as an artistic practice; how we can transform excess energy into a rewarding co-existence of humans and other-than-humans.
Throughout summer Sandra picked, fermented and dried fireweed leaves, in autumn she unearthed and dried dandelion roots. These are common weeds, but also nutritious and healing plants, that can be used to prepare tea or other herbal creations. A bundle of either fireweed or dandelion, collected from various locations in Narva, Tallinn and Massiaru in Estonia, is included in the package.
The second component of the package is a publication with newly commissioned essays by London based artist, environmentalist and fermenter Sean Roy Parker ('Potluck Picnic: Convivial Food Systems in Late Capitalism'), the director of Narva Art Residency, artist and curator Ann Mirjam Vaikla ('Attending Fragility') as well as verses and writings by Sandra. The booklet includes artworks by Narva-local artists union Vestervalli members Olga Tjurina, Vera Lantsova and Lena Sabinina, that were inspired by – and inspiring – the texts in the publication.

WEEDS FEED! by Sandra Kosorotova is a commissioned work by NART – Narva Art Residency and PUBLICS for the transdisciplinary festival Today Is Our Tomorrow. This is a cooperation project between The Latvian Centre for Contemporary Art, VAA Nida Art Colony, Narva Art Residency and PUBLICS. The project is co-funded by the Baltic Culture Fund.
To order the package for free or for donation*: weedsfeed.info
* Your donation is going to support the community garden Kreenholm Plants near Narva Art Residency in Narva.

PUBLICS – Today Is Our Tomorrow: https://www.publics.fi/calendar/today-is-our-tomorrow-2021/
e-flux press-release: https://www.e-flux.com/announcements/374579/
Sandra Kosorotova is an artist and designer from Tallinn, Estonia. She graduated from the Estonian Academy of Arts with an MA in Fashion Design in 2016. From 2013 to 2015 she co-led the NGO New Russian Culture in Estonia (UVKE), which aimed to bring together Estonian and Russian-speaking communities by organising cultural events. She is currently co-running a community garden near Narva Art Residency in Estonia. She has recently exhibited her work in Kim? CAC (Riga, 2021), Kunsthaus Erfurt (Germany, 2020), Kumu Art Museum (Tallinn, 2020), Kai Art Center (Tallinn, 2020), 427 Gallery (Riga, 2019) and the first Riga International Biennial of Contemporary Art (Latvia, 2018).

PUBLICS is a curatorial agency with a dedicated library, event space and reading room in Helsinki, Finland. The first edition of Today Is Our Tomorrow took place in 2019 and was co-organised in collaboration with 10 different institutions and included over 50 artists and collectives.
related artists