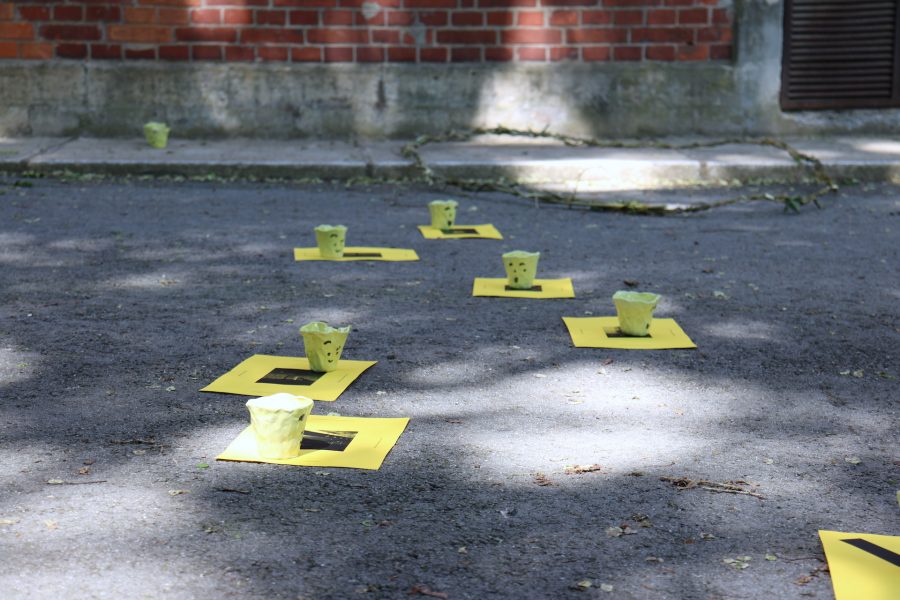 With the pre-Midsummer weekend ends the exhibition Point of No Return. Attunement of Attention – it's the last chance to take part in exhibition tours and the film programme You are running. Everyone's got holes. The second screening takes place on June 20 at 17.00, followed by a discussion led by the curator of the film programme Piibe Kolka, with anthropologist Eeva Kesküla, artist Marit Mihklepp, exhibition's curators Ann Mirjam Vaikla and Saskia Lillepuu. The unifying theme is 'rhythm' – ecological, work, everyday, bodily rhythms. How to relate to various rhythms of being? What power structures rhythms express? How do rhythms transform? If and how we can choose the rhythms organising life?
The evening continues with the rhythms of Sillamäe musicians Analogue Quattro!
PROGRAMME:
Sunday 20.06
14:00 – 15:00 Curators' tour, in English with the exhibition curators Saskia Lillepuu and Ann Mirjam Vaikla.
15:15 – 16:00 Guided visit to the artwork "garden for death".
17:00 – 19:00 Film programme "You are running. Everyone's got holes", screening 2, films are in various languages, with Estonian, Russian and English subtitles.
The evening continues with the rhythms of Sillamäe musicians Analogue Quattro!

EEVA KESKÜLA is an anthropologist who has done ethnographic fieldwork in New Zealand, Estonia, Kazakhstan and Thailand. She has focused on the transformation of ethnic and class relations in the former Soviet Union, studying mining communities in the Karaganda coal mining area in Kazakhstan and Kohtla-Järve oil shale mining in Estonia. Fieldwork with manual workers led to her wider interest in different ways of working and their connections to the ethic and values of work, various bodily practices and temporal rhythms. Currently she is researching location independent work during Covid-19.

MARIT MIHKLEPP is an Estonian artist currently living in The Netherlands. She works together with more-than-human bodies and imagination, attempting to encounter the almost imperceptible – too slow, too small, too far. Collaborative practices with microbial organisms, trees and human-made objects have grown into participatory experiences, video works, performative and written pieces.
SASKIA LILLEPUU combines anthropological sensibility, curating and non-fiction writing in her creative practice, sensing through potential contact points between anthropology and contemporary art. Her current interests are the ways humans perceive, deal with and address the global ecological crisis, along with the challenges it brings to our habitual human ways. Some of her companions in this research are post-humanist thinkers and the corporeal knowledge of non-normative bodies.
ANN MIRJAM VAIKLA is an artist and curator and has been the director of Narva Art Residency (NART) since 2017. Her practice lies in the intersection of performing and visual arts working within various contexts at galleries, theatres and public spaces in Estonia and internationally. Nominated for a CEC ArtsLink fellowship, she is participating in a multi-year residency programme at the Triangle Arts Association and Grand Central Art Center in the US where she is researching the role and potential of social sculpture. In her research, she draws inspiration from her experience at NART, working mostly on curatorial projects that involve community engagement.
PIIBE KOLKA is a filmmaker, filmworker and artist who is interested in the divergent potential of film as a relatively young medium and its crossovers with other art forms. She is drawn by artist moving image as a personal practice with ample room for experimentation and inquiry into the audiovisual, temporal and rhythmic peculiarities of the genre. By alternating between questions of "what is happening?" and "how does it feel?", she explores the intensities of presence in films. Kolka has previously worked in New York as a cinematographer and editor of documentaries, narrative features and artist films.

The film programme is supported by the British Council in Estonia, Estonian Film Institute, NomadIT.

The exhibition is supported by the Cultural Endowment of Estonia, British Council in Estonia, Nordic Culture Fund, Frame Contemporary Art Finland, NomadIT, Tallinn Art Hall, Estonian Academy of Arts, Narva Gate, Estonian Ministry of Culture, Stroom Den Haag.

Exhibition hours: Mon, Tue, Sat 11-17; Fri, Sun 12-19; Wen, Thu – Closed
Free entry!
Photo: "drifting with yellow attention on cups" Vera Anttila
related artists