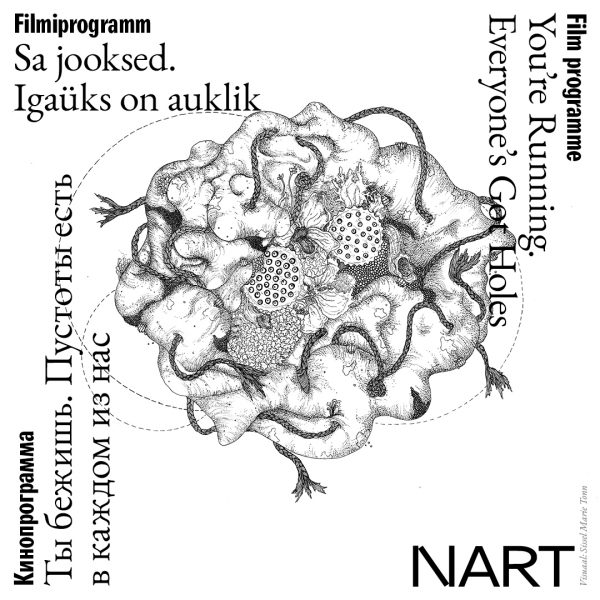 Film programme You're Running. Everyone's Got Holes
Curator: Piibe Kolka
The film programme accompanies the exhibition Point of No Return. Attunement of Attention, more information HERE. Download the catalogue HERE.
Screening 1 (read about Screening 2 HERE)
June 5, 2021, at 17:00
NART, 2nd floor cinema hall
Joala 18, Narva
N.B. Due to Covid-restrictions we kindly ask you to register your attendance by filling out THIS FORM.
Christina Phoebe's feature length film Amygdaliá, followed by a discussion with the filmmaker, joining virtually.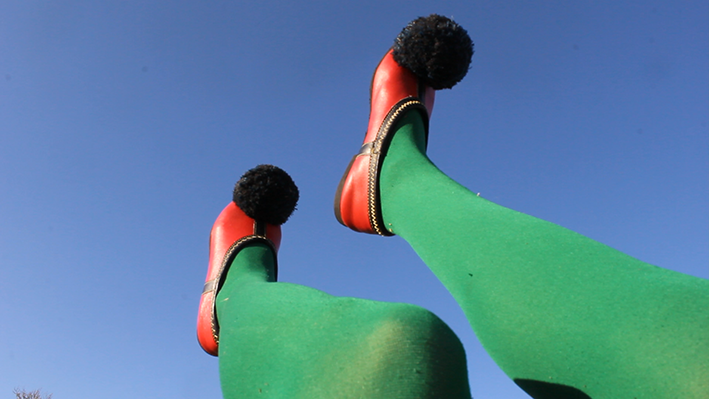 Christina Phoebe
77 minutes
HD video
In Greek, with Estonian, Russian and English subtitles
Amygdaliá is a tree that blooms just before spring. It is also the word that haunts a young child when she first arrives to greece. Along with her, a group of women begins revealing fragmented memories alongside an off-limits mediterranean landscape. In the curious world of Amygdaliá, people, places, and things come together and part ways as in a dream. Walking by the water, lying on a roof or running through a meadow – images turn into memories and into images again, as if taking on a life of their own. But what happens when the subjects of these images feel disconnected from these "postcards"? The natural world becomes a place of refuge and companionship for a group of women searching for a new language. With the camera that at times seems to be touching landscapes, at times capturing gestures performed for it, Amygdaliá hints at belonging within movement and relation rather than at a particular place.
Christina Phoebe is a multimedia artist, filmmaker, performer, writer and researcher. Unexpected encounters in diasporic spaces are frequently at the centre of her work on memory, language, borders and belonging. Her work has been shown at the 21st Thessaloniki Documentary Festival, the 15th Venice Biennale of Architecture, Flux Factory (New York), YNKB (Copenhagen), The Greek Film Archive (Athens) and in Jeu de Paume's online publication Le Magazine, among others. Her writing has been published by platforms including Photogenie, ArtsEverywhere, VisAvis: Voices on Asylum and Migration, and Media Practices and Education. She has been a recipient of a NEON grant, and was selected as the 2018 George Stoney Fellowship at the Robert Flaherty Film Seminar. She lives in Athens, Greece.
---
The artist film programme accompanying NART's annual exhibition 2021 Point of No Return. Attunement of Attention consists of two screenings taking place on two weekends in June.
The films are close to bodies, expressing rhythms and frequencies at different intersections of being. There are bodies that look for a place in physical space and landscapes, in ecological networks and economic hierarchies, bodies that move in time, bodies that perform measured gestures and find a rhythm in relationships to others. Everyone in a moment captured into an audiovisual artefact where a global connection with many others is inevitably clear, but there is only one sole body for reacting, taking a step, turning around or standing still.
The films look at at speed, efficiency and dream spaces among motorcycle couriers, instruct in gestures of fake intimacy, invite a decommissioned container vessel into a dialogue with workers dismantling it, imagine the myth of Xąwįska – a plant that revives those who have fainted, talk about borders, both inside and outside, asking if a film can be like a nest.
There's a concreteness and determination in many of the filmic gestures, while they also echo vibrations from given or chosen contexts. Because
"[E]veryone's got holes.[…] No amount of disintegration or porousness makes us any less human. One can remain human while being mixed up – because to be human is to be mixed up."[1]
Supported by: British Council in Estonia, Estonian Film Institute, NomadIT.
Piibe Kolka (b. 1986) is a filmmaker, filmworker and artist who is interested in the divergent potential of film as a relatively young medium and its crossovers with other art forms. She is drawn by artist moving image as a personal practice with ample room for experimentation and inquiry into the audiovisual, temporal and rhythmic peculiarities of the genre. By alternating between questions of "what is happening?" and "how does it feel?" she explores the intensities of presence in films. Kolka has previously worked in New York as a cinematographer and editor of documentaries, narrative features and artist films. She is currently working on the Tütarrakk short film and expanded cinema project, studying the multiple interpretations of gestures performed for a camera, and delights in footage recorded on audio cassettes by a low-resolution camcorder – a pixelated, fluttering change of pace to the abundance of extremely high-definition playbacks. Kolka studied anthropology at Tallinn University (BA 2010, MA 2015) and documentary filmmaking and film studies at the New School in New York (MA 2014).
[1] E. Wilk, "This Compost: Erotics of Rot," Granta, 7 July 2020, online publication. https://granta.com/erotics-of-rot/.

related artists