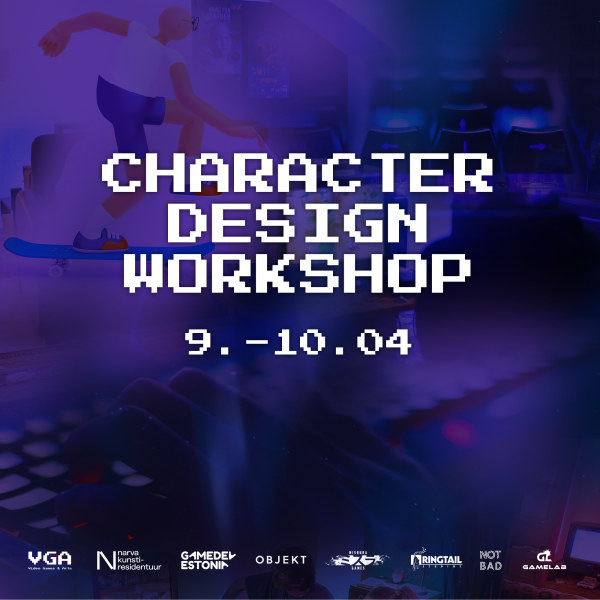 Narva will have a workshop on video game characters design, a first of its kind, on April 9-10
Narva Art Residency (NART), GameDev Estonia, and OBJEKT host a workshop on April 9-10 that will focus on the design of video game characters. They invite students from Narva and the region to take part in the two-day event which is led by an extensive group of experienced game industry professionals who guide the participants to work on unique and memorable characters in full detail. The focus is not only on game characters but characters in popular media in general – cartoons, comics, games. The event schedule will include the topics of 3D modelling, 2D-3D animations, working out the general style of the game, stories, and narratives.
The event will take place in the creative hub OBJEKT (April 9) and in Narva Art Residency (April 10) and will run from 11 am till evening. The participants will be working in teams and will have these two days to develop a character of their own choosing. On Sunday evening there will be a showcase of the participants' works at the Narva Art Residency (Joala 18), and the best character designs will be chosen by the jury of industry leaders. The best three projects will receive prizes. The event will be mostly held in the Russian language, but participants who speak English or Estonian are very welcome.
Register to participate in the workshop: https://forms.gle/4nxeHg7Repe2nE9j8
Places are limited!
This event takes place as part of the "VGA" (Video Games and Arts) project of the Narva Art Residency. Partners are OBJEKT, GameDev Estonia, Mishura Games, GameLab, Ringtail Studio, Not Bad Ltd., Video Game Museum LVLup! and Ida-Virumaa kutsehariduskes.
At this event you will meet:
Wim Van Brussel – character artist for Horizon Zero Dawn, technical artist for Horizon Forbidden West.
Aleksei Nehoroshkin – founder and director of Mishura Games, specialist in game design, 3D animation creation, comics artist.
Sergei Dragunov – creative director at Not Bad Ltd.
David Saralidze – Game Dev Marketing Specialist, Producer at Ringtail Studio, GameLab board member.
Semjon Noskov – Character Artist/Tech Artist. Art Lead at Mishura Games.
Philipp Keks – programmer, graphics and visual effects designer.
Anna Semjonova – 2D animation, character, and VFX artist, a chief animator at Mishura Games.
Andrejs Rusinovskis – CEO of GameDev Estonia, co-founder of the LVLup! video game museum, manager of educational programs at Ringtail Studio.
The workshop is being implemented in partnership with the British Council under the People to People Cultural Engagement program.