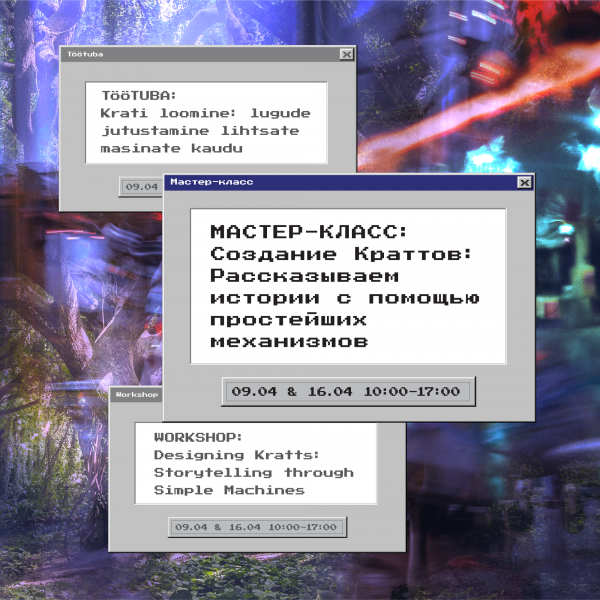 The Narva Art Residency invites you to take part in a 2-day workshop "Designing Kratts: Storytelling through Simple Machines", led by Artist-in-Residence, Mohar Kalra. The workshop is part of the Residency's ongoing VGA project, exploring the stories and identities we can construct for ourselves using technology. Inspired by the Estonian folkloric Kratt – an animated machine made of everyday items intended to complete any task its creator asks, participants will reflect on how the Kratt mythology provides a new perspective on our relationship to modern technologies. How might the technologies we use tell a story about our lives? How might we imagine technology to better understand ourselves?
With these questions in mind, participants will design and take home two Kratt-like robots to explore how robots can metaphorically represent human stories. Participants will learn the basics of artistic robotics by building a small robot that shakes and moves when music plays, thus metaphorically dancing. Then, participants will design a Kratt that functions as a robotic self-portrait, metaphorically acting out the personal and emotional work that participants feel is an important part of their lives.
The workshop will take place on two consecutive Saturdays: April 9th and April 16th from 10:00 to 17:00 each day at the Narva Art Residency. Participation is free, but the following application must be filled out if you are interested in participating. Applicants will be notified by March 31st if they have been chosen to take part in the workshop. Priority will be given to participants from Ida-Virumaa over the age of 14. The workshop will be offered in English and Russian. No prior technical experience is needed.

Apply on this link: https://forms.gle/TeaP39NtsBckeeqy5
Syllabus:

Day 1: April 9th
Introductions
What is a Kratt?
The Kratt as a metaphor for technology
How does technology shape how we feel and experience our lives?
Thinking about technology as a creative, storytelling medium
Building a Dancing Kratt
Brainstorming your Kratt Self-Portrait
Walkthrough of parts and functional elements to build your Kratt Self-Portrait
Day 2: April 16th
Building Session
Consultation and checkpoint
Building Session 2
Show and Tell

The event is being implemented in partnership with the British Council under the People to People Cultural Engagement program.