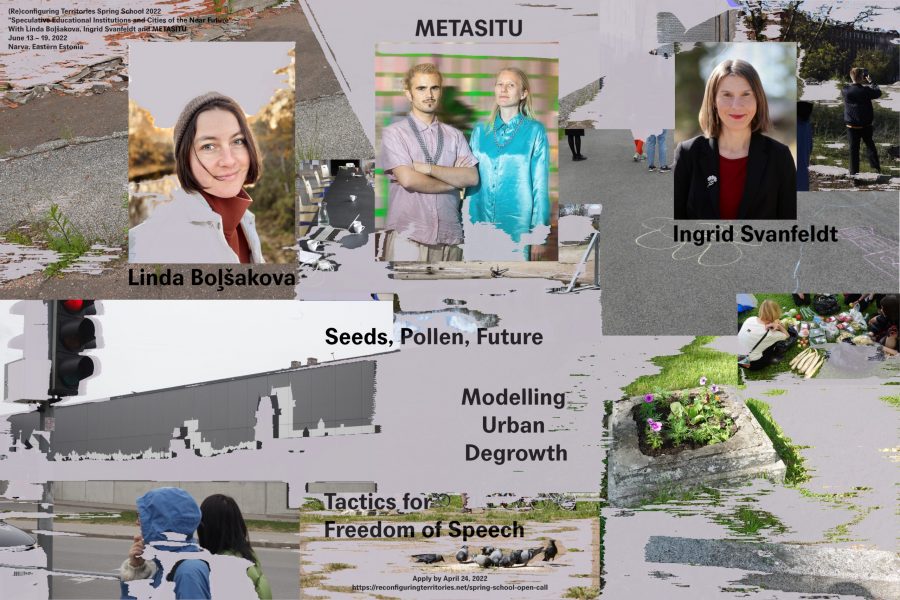 (Re)configuring Territories Spring School 2022
"Speculative Educational Institutions and Cities of the Near Future"
With Linda Boļšakova METASITU (Liva Dudareva and Eduardo Cassina) and Ingrid Svanfeldt
June 13–19, 2022 at Narva Art Residency. The due date for the Spring School applications is April 25, 23:59 (EEST), 2022.
How do journalists circumvent restrictions on press freedom? How do architects work in areas with shrinking populations? How to collaborate with plants? Among other things, these issues will be addressed at a spring school on the Estonian-Russian border. The Spring School is part of the (Re)configuring Territories research programme, where young architects, designers, artists and journalists develop a political imagination in the midst of social, ecological and technological change. The spring school will be held in the city of Narva, on the border between Estonia and Russia, at the Narva Art Residency.
This year's programme explores the politics of collective imagination in the midst of the socio-political and technological upheavals we currently face. How do the changing perceptions of territorial relationships, the experiences of belonging to a place, the multiple spatial layers of history, and their connection to human and non-human agencies shape the ability to imagine the future? What are the possible roles and structures of educational institutions in developing the necessary skills and knowledge of political imagination?
*
Spring school as an experiment in living together
The Reconfiguring Territories Spring Schools are week-long experiments on coexistence that allow us to experiment with a variety of urban study, modeling, storytelling, caretaking and nursing practices together with a multidisciplinary set of participants.
The spring schools are based on intensive coexistence. Participants and organizers live together for a week in Narva Art Residency, a historicist villa which was originally built for the director of Kreenholm Textile Manufacture. In Spring School, everyday routines intertwine the multidisciplinary participants of the Spring School to look critically at both the city of Narva and their own fields and prejudices.
This year's Spring School will consist of three overlapping workshops which together form a School for Speculative Environmental Education. More here.
*
Mentor BiosLinda Boļšakova has collaborated with leading scientists from the National Botanic Garden and Institute for Environmental Solutions in Latvia, as well as the Association for the Conservation of Antalya Orchids and Biodiversity. For the project series "Semina futuri: placeholder for future coexistence" Boļšakova collaborated with composers scientists, web developers and 3D artists. Recently she gathered seed stories at the urban Gardens of Sporta Pils that reveal the semantics of people and plants, their relationships and connections.
Ingrid Svanfeldt is a journalist, teacher in journalism and media entrepreneur with a masters degree in media and communication from Helsinki university. Currently she teaches journalism at the Swedish School of Social Sciences at Helsinki university and works with a roleplay project about Freedom of Speech and Belarusian journalists. Her company has produced documentaries and various shorter radio and tv-programs for the Finnish broadcasting company Yle.
METASITU is a collectivity that explores the way we relate to territory across time and disciplines, for a queerer tomorrow. Their practice is centred around non-hierarchical symbiotic pedagogies that take the form of urbanism residencies, architectural interventions, intentional communities, self-publishing, real estate experiments, and videos. Their work has largely focused on shrinking cities in Eastern Ukraine: mainly through their ongoing project 'The Degrowth Institute', where we explore ways of incorporating notions of degrowth to urban masterplanning. The Degrowth Institute also researched vacancy, and ruinification processes in Dubai's office towers, among others.
Further Information:
info@reconfiguringterritories.net
https://reconfiguringterritories.net
https://www.instagram.com/reconfiguringterritories/
https://www.facebook.com/ReconfiguringTerritories
Programme Curator, Architect
Kaisa Karvinen
kaisahkarvinen@gmail.com
+358 40 8359895
Programme Curator, Designer and researcher
tommivasko@protonmail.com
+358 50 3600864
Programme Director at the Finnish Institute in Estonia
Duha Elsayed
duha.elsayed@finst.ee
+372 5857 5638