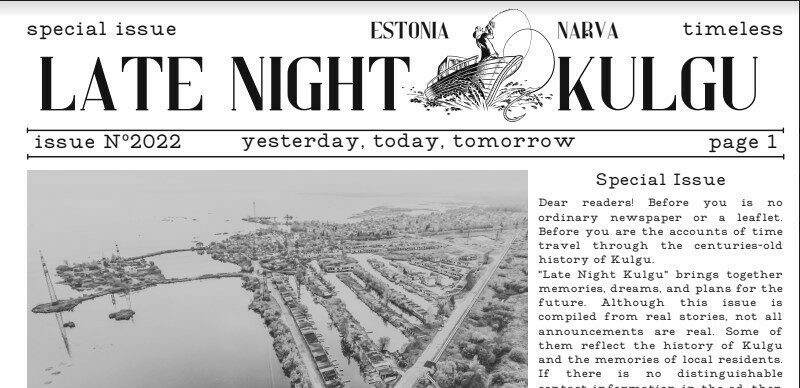 4.02.2023 at 15:00
Free of charge
Together with British Council
In the summer of 2022, the Narva Art Residency project "NART'S EMBASSY IN NARVA VENICE" took place. Five artists from around the world brought their projects to the area of Kulgu boat garages. During the season, various events, meetings, and concerts took place in Narva Venice.
The project is also partnered with a research team from Tallinn University – researcher Tarmo Pikner, student Valeria Jermakova, project manager Jana Levitina, and Karina Vabson. They kept a close eye on the Venetian Embassy. Researches and interviews were combined into a brochure "Late Night Kulgu", which will be presented at NART on February 4 at 3:00 p.m. Admission is free and everyone is welcome!
In "Late Night Kulgu" you can learn about the story of the project, the artists, and the Kulgu region. The brochure contains stories of locals and archive photos from different generations.
The newspaper is published in three versions – Estonian, English, and Russian. A copy of the newspaper can also be bought locally for 2 euros, project participants and locals get a copy for free!The project is supported by the British Council.

Additional information: https://www.nart.ee/et/projektid/veneetsia/