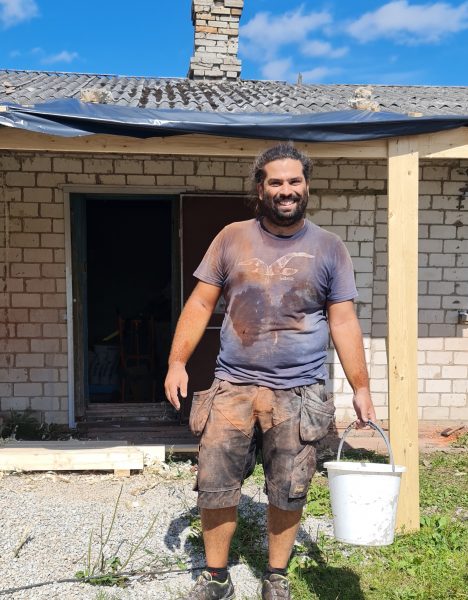 On Saturday, August 20, from 13:00 to 17:00, the Narva Art Residence invites everyone to a Community day, which will take place near the building of the fishermen's club on Kulgu. Let's celebrate the Restoration of Independence Day and conduct a "test drive" of one of our resident's projects.
For two fruitful months, the residents of the "Embassy" worked on their projects in the "Narva Venice" and now, one of the projects is ready to start living its own, full life and benefiting the local residents.
Architect and artist Enrique Roura (Mexico/Norway) has been hard at work for weeks on his design for the Kulgu, a bread oven.
"The journey of building this oven has been long and exhausting, I had to use my body into its limits. At some times I have felt lost and drowned by my own ambitions, but the hospitality and generosity of the local people, that have seen me working has lift up my spirit, like a juicy piece of watermelon, a cold beer or a hot sauna after a hard day of work, has helped me enormously to continue working."

Enrique says.
Local residents were always sincerely interested in the progress of the process, borrowed tools for work and simply supported the artist.
As part of the Community Day, we will finally test the oven in action and make real bread. Drinks and snacks are waiting for guests of the event, but guests can also bring something of their own, their favorite, so that we can arrange a real "long table" celebration. If anyone wants to share their family recipes for making bread, Enrique would be very grateful to accept such a "payment" for his work.
The event will take place near the fishermen's club at Kulgu on August 20 from 13:00 to 17:00. We are waiting for everyone!