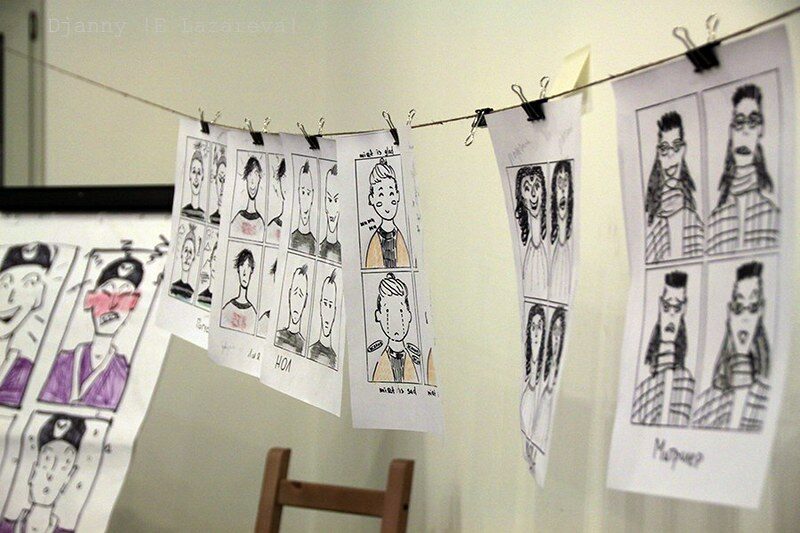 28.01.2023 at 15:00
Narva Art Residency, Joala 18, Narva
Free of charge
In a cooperation with Q-Space
The Estonian queer cultural project Q-Space in cooperation with Narva Art Residency (NART) offers a unique opportunity to participate in a comics master class led by the artist Elke Renate Steiner. The workshop titled "Drawing Identity" will take place on January 28 (Saturday) in Narva.
During 4 hours you will be able to learn basic illustration techniques: how to draw a face with different emotions, how to draw people, bubbles for text and the letters themselves, and at the end you will learn how to combine different pictures together to create your own hand-drawn story. The focus of the master class lies on the expression of one's own identity.
The number of participants is limited – registration via the link until 23.01 for Narva.
Elke Renate Steiner's comics are included in the How Much Queer Work comics collection, which you can purchase at the master class.
Language – English, translation into Estonian or Russian possible after request.
Elke Renate Steiner is a comics creator based in Berlin. She draws comics based on biographies, the history of Jews in Germany, feminist and queer stories, conducts master classes, draws illustrations, sketches and process documentations from events and large events such as prides and festivals.
Her work was shown at the Minsk Pride in 2013. She draws LIVE and shows her work every year at the Pride in Cottbus (Germany) and published in queer magazines such as Siegessäule and L-MAG (comic article "Queer in Russia" 2/2012).
She exhibited her work and gave master classes at the Feminist Pencil-2 exhibition in Moscow, participated in the projects "Respect International Comics" on acceptance and respect towards different minority groups with the Goethe Institut Moscow, as well as "Picture Politics" with Goethe Institute Norway. Recent Publications on Queerness and Human Rights are "Love Migration" with Quarteera e.V. Berlin, and "Civil Society Heroes Leading Change" with the Kaleidoscope Trust London.
In 2014, Elke Renate Steiner held 4 workshops "Exploration of Identity" at the invitation of the Side by Side LGBT Film Festival in St. Petersburg, Moscow, Perm and Murmansk.
Further workshops with the Goethe Institute happened in Rostov-na-Donu, Voronezh and Grosny.
Elke likes to share her experience by giving master classes on comics.
facebook.com/qspace.ee
instagram.com/qspace.ee
related artists