Sean Roy Parker | Kreenholm Garden
(UK)
01.06 – 31.07.2022
// BIO
Sean Roy Parker is a visual artist, fermentation enthusiast and food writer based at DARP artist community in Shipley, Derbyshire. His work examines the lifecycle of materials, complexities of multi-species responsibility, and problem-solving through collaboration. He practises slow and low-tech crafts using leftover consumer debris or natural abundance to explore feelings of eco- anxiety in late-stage capitalism, and redistributes resources through flexible care structures like labour exchanges and artswaps.

//ARTIST STATEMENT
During my time at Kreenholm Gardens, I will spend time writing with the more-than-human neighbours, learn basic woodworking and build a communal tool shed with upcycled materials from the locale.
//EXPERIENCE AT NART
I came to NART to be the artist-gardener at Kreenholm Plants for the summer, running masterclasses on herbal balms and lactofermentation. I like sharing my skills with the public as the topics can be quite surprising in their depth, and illustrate more nuanced aspects of my practice that sculptures or presentations cannot. Alongside these, I grew vegetables and flowers at KP using my knowledge of organic farming and permaculture design, using lots of foraged, found and surplus materials to build soil health. I also taught myself some basic carpentry and built three cold frames (small greenhouses) from old exhibition timber and windows collected from the tip, and closed my residency by unveiling them, making a stew and reading some poems.

The day-to-day of NART was always interesting with opportunities to integrate with the Narva happenings. For example, I spent lots of time at Kulgu exploring the garages, sitting in saunas and taking canoes out to the lake. I felt very welcome and got to know the city well, even visiting Narva-Jõesuu and the Kreenholm Manufacturing territory a few times. The other events and projects at NART meant I interacted with many different practicioners from across Estonia and around the world.
I was given free range to manage my own schedule, which I'm used to, and given good notice of other events happening. Although small, the team at NART were always happy to answer questions, provide suggestions and offer advice. I appreciate how intense and diverse the scheduling at the institute was, particularly with the basement hosting so many schools, artist groups and refugees in quick succession. It was clear with the programming how important it is at the moment that NART is working hard to create an accessible programme for Narva inhabitants, particularly with only one other art gallery in the city. The range of public events was surprising and dynamic, and I thought Jaakko Autio's installation was very moving.
Probably the wildest thing that happened was that NART asked me to cook for the locals at their open day in Kulgu (Narva Venice). We were trying to erect tents and light the huge iron barbecue in the middle of a storm. The locals toldme the storm would pass quickly and they were right; as soon as we got it lit, the sun came out for the rest of the afternoon. Not eating meat normally, it was a challenge to prepare and cook enough for 60 people, luckily I had some solid helpers. I made brined pork steaks, kefir-pesto turkey shashlik, lactofermented potato wedges, cucumber pickles with bread and herb butter and a tomato watermelon and mint salad. There were clean plates and thumbs up all around. When one guy licked his lips like a cartoon character I knew it was a big success.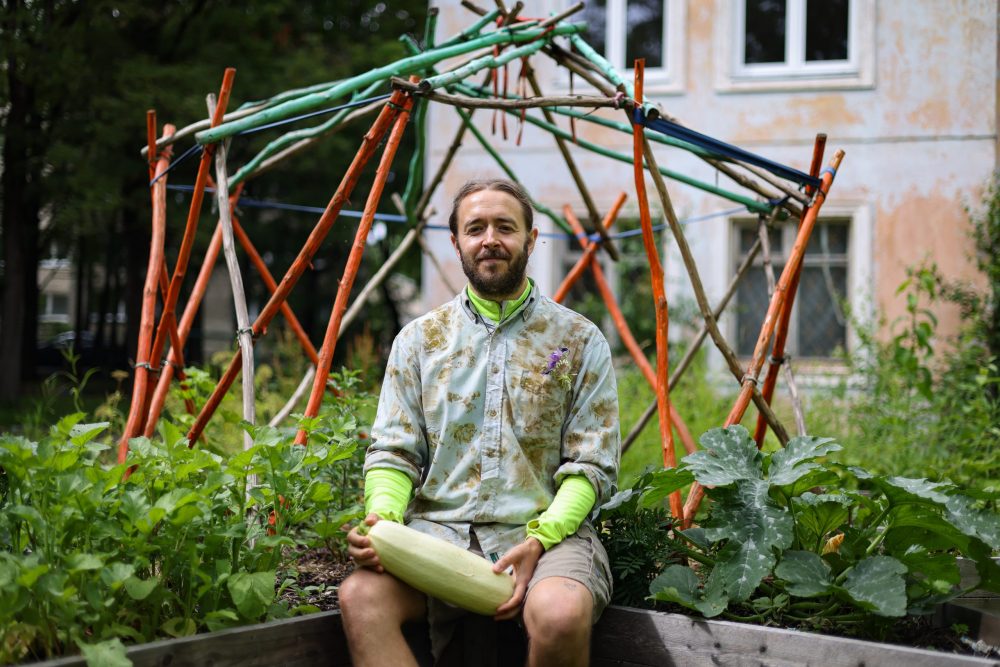 Sean Roy Parker | Kreenholm Garden
Eco-anxious artist, environmentalist and cook Forever-amateur, post-capitalist skill-sharer
lingid:
fermentalhealth.substack.com
seotud sündmused ja näitused