Andréa Stanislav
(USA)
03.05 – 29.05.2022
//BIO
Andréa Stanislav is based in New York City, and splits her practice between St.Petersburg, Russia and Bloomington, IN. Ms.Stanislav's hybrid practice spans sculpture, immersive multimedia installation, video and public art.
//ARTIST STATEMENT
I would plan to work on a new multi-channel immersive video installation at the Narva Art Residency — Learning how to Levitate (in Exile) (working title). I would plan to complete location shoots at particular location in Narva, including the theater space within the residency — paired with my personal memories of Narva and actions from 2019.
I would also plan on conducting interviews through a series of "video portraits" with a group of eighty-year old female best fiends, I met in 2019 in Kohtla- Jarve, remembering their friendship, loves, losses and survival in one place — and their sense of humor. I would include my own personal story of love and loss intermixed with the stories of then four female finds — connecting the past and present through a poetic visual and spoken narrative — and with a supernatural science fiction sensibility that would further reveal in the third act of the video.
//EXPERIENCE AT NART
My NART residency was successful in completing video location shoots in the residency's Soviet-era theater and at selected locations around Narva. I interviewed Ukrainian refugees who were briefly staying at NART – our sharing of stories and music was a unique and valuable experience, which unexpectedly became a significant part of my project. The Kreenhomi factory also became a significant location subject. I engaged in research on the factory's textile history with the Narva Art Gallery, resulting new kinetic fabric sculpture elements, as part of my project's exhibition proposal.
I am fortunate to have attended with fellow resident artists – Jaako Autio and VariaLambo, whose sharing of art and camaraderie made the residency an engaging and supportive experience. There were also several residency staff I enjoyed meeting and bonding with. Dir. Johanna Rannula, brought the residency artists on a productive trip to Tallinn for a tour of EKKM and to EKA's graduating exhibition, where we met professors and students. Johanna introduced me to Julius Lauritsch, Austrian ambassador to Estonia, during his tour of the residency. I also met curators, vocalists, and Ukrainian refugees who I remain in contact with.
Every day life was idyllic. I am a runner and went on gorgeous runs along the 'Venice of Narva'. I researched and worked on video location shoots. Meals were enjoyed by shared cooking amongst residents, and public events introduced us to the greater Estonian arts community.
New ideas or impressions
I realized NART is the eastern center of the Estonian arts community. I also came to understand what a special and unique position Narva is in the current geopolitical state. I was taken how traditional culture is valued in Estonia. NART's architecture never ceased to fascinate me, as I still find it mysterious — which also makes NART conducive to making art and a difficult to leave.
Most memorable moment or memory in Narva
I walked into the garden at dusk one evening, hearing birds chirping in the trees. The chirping flowed into the female voices singing Russian, Ukrainian and Estonian folk music – it seemed like a magical waking dream. The group was a local choir practicing. I ran back to my room to retrieve my video camera, upon my return, the vocalists invited me into their circle, and I spent the rest of the evening recording them as they sang for me.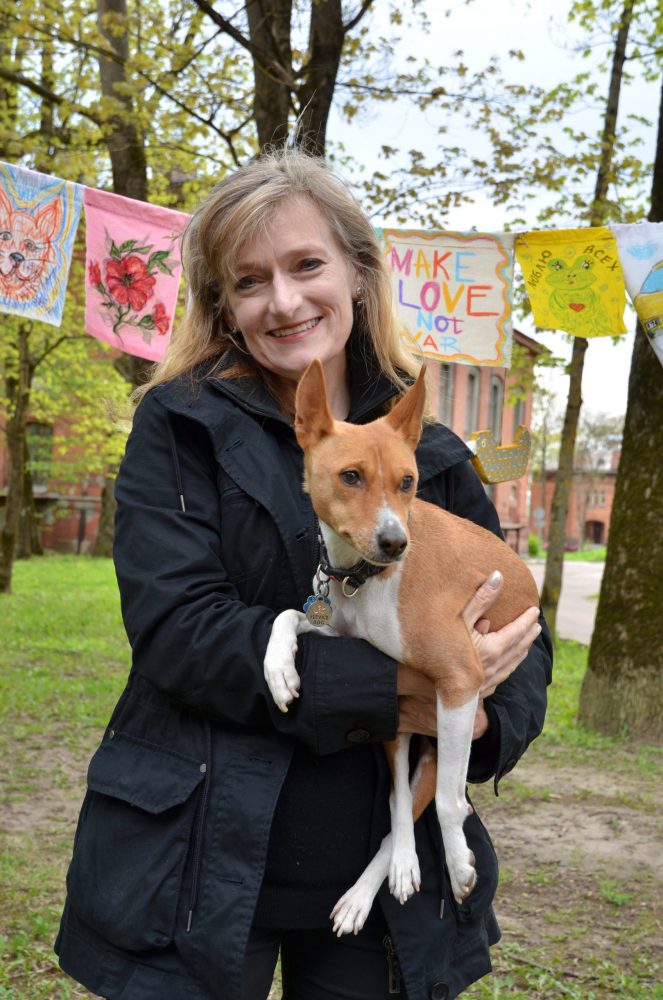 Andréa Stanislav
video and sculpture installation
lingid:
andreastanislav.com