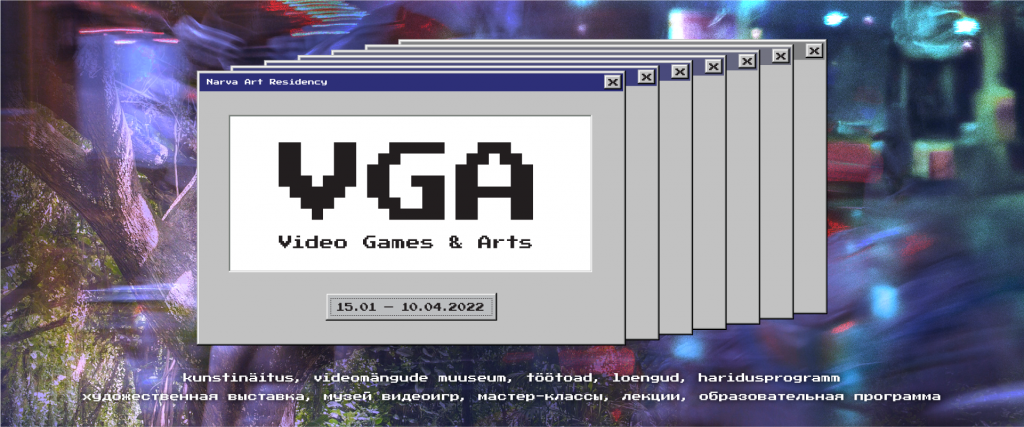 ---

January 15, 2022 — April 10, 2022
Entrance: 1 euro

Contemporary art exhibition "Näotus"
Open: Wed. — Sun., 14:00 — 18:00

Video Game Museum LVLup! WarpRoom
Open: Wed. — Sun., 14:00 — 21:00
---

The video game museum LVLup! WarpRoom is located at the basement of the Narva Art Residency and is open until the evening. Come and have fun with your friends or family. You can play with historical artefacts that have been around from the 1980s to the present day: Nintendo, Sega, Sony PlayStation consoles, Guitar Hero set, Kinect and more.

The gallery rooms, located on the ground floor of the Narva Art Residency, host a contemporary art exhibition "Näotus" that reinterprets the world of video games and gives it new meaning. Curator: Juhan Soomets. Artists: Anna Shkodenko, Danel Kahar, Alexei Gordin, Raul Keller, Mihkel Kleis, Kaspar P. Loit, Denisa Stefanigova (CZE), Henri Hütt, Oleg Frolov (RU).

From January to April, a series of workshops and open events will take place that will introduce the different points of contact between the worlds of video games and the arts. The program and presenters of the events will be announced in January. A seminar was held for Narva teachers, where the participants discussed a program for children and youth. During the project, groups of children will have the opportunity to take part in an interactive lesson at the Narva Art Residency, which will introduce the audience to the video game museum as well as the Näotus art exhibition.
---
Curator of the art exhibition: Juhan Soomets
Curator or the video games museum: Andrejs Rusinovskis, Camille Laurelli
Project manager: Johanna Rannula
Graphic design, project manager of the museum: Sigrid Liira
Communications, translation: Olesja Rotar, Dan Rotar
Assistants: Liselotte Carmelino, Maria Železnova
Educational programmes: Aleksei Ivanov, Anita Kodanik
Language editor: Made Isak
Thanks: Natalja Rusinovskis, Laura Kuusk, Aleksandr Frolov, Teemo Vaas, Helbe Liira, Anton Malyshev, Sõbralt Sõbrale, Tõlkebüroo Pangloss
The project is being implemented in partnership with the British Council under the People to People Cultural Engagement program.