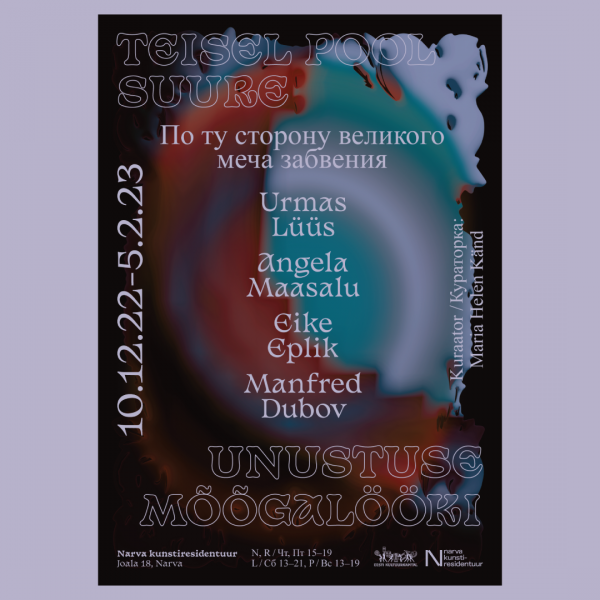 "On the Other Side of the Great Oblivion"
Artists: Angela Maasalu, Eike Eplik, Manfred Dubov, Urmas Lüüs
Curator: Maria Helen Känd
Project manager: Anita Kodanik
Narva art residency, Joala 18, Narva, Estonia
Opening hours:
10.12.22 – 05.02.23
Thu-Fr 15.00 – 19.00
Sat 13.00 – 21.00
Sun 13.00 – 19.00
Entrance: 1€
The group exhibition focuses on the feeling of emptiness: when you are removed or lifted out of your environment by powerful transformations or transitioning from one phase of your life to another. Eike Eplik and Urmas Lüüs are known for their installational staging of the space, while Manfred Dubov and Angela Maasalu translate charged emotional states onto canvas.
The exhibition allows the viewer to perceive that everything happens in a constant state of in- betweenness. The present moment is split into two halves. We accommodate scenarios that are waiting to be fulfilled, offering a space for imagination and growing out of reach before they unfold and start to transform, decrease and warp once again. The uncanny, ritualistic, at times playful and somewhat humorous works strike a wedge into our consciousness. As the sharp blade of the sword falls behind us, the exhibition guides us through space-time continuums, within the reach of great powers, oblivion, reconciliation and dreams.
The title of the group exhibition is inspired by the Estonian poet Jaan Kaplinski's poem from his collection "Raske on kergeks saada" ("It is Hard to Become Light", 1982). The poetic self conveys a mystical experience of time and space, where the person has not yet received a time, a space or a name. For Kaplinski's poetic self, the experience of the unknown is not one of misery or of a dark state of mind. On the contrary, letting go of the self brings enlightenment. Reaching the enlightened state, however, can be hard work, full of losses and renunciations.
The exhibition is supported by the Cultural Endowment of Estonia