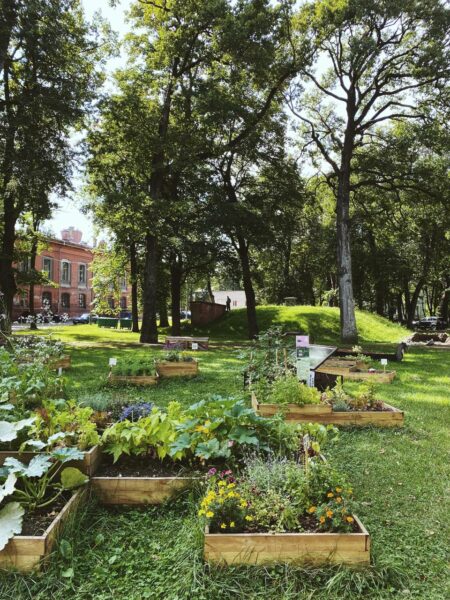 Saturday, 9 September 16:00 – 18:00
Sunday, 10 September 11:00 – 16:00
Kreenholm community garden is a place where Narva's residents and habitats can engage in urban gardening, participate in artists' workshops and much more. Every summer, the garden hosts new art residents and offers a busy program of workshops. This year, the beloved haven moved back next to the Narva Art Residency and was managed by artists Juliana Foronda and Xiyao Chen. The planting beds were established with the help of Lasnaidee NGO, and special workshops were also held for the Narva Social Center.
After a bountiful season, it's time to look back, think about the work done, and find out all about this year's harvest. Let's celebrate the end of the season with little parties in the community garden on two days in a row!
On Saturday, 9 September, from 16:00 to 18:00, we welcome guests to come and chill with us! We'll let the music play, and serve snacks'n'booze.
On Sunday, 10 September, we'll start the celebrations already at 11:00 and finish at 16:00.
– Meelis Muhu's documentary "Lasnamäe's Hoesters" (2019) and Sandra Kosorotova's "Can I grow up here" (2022) will be screened in the cozy cinema hall of NART.
– 14:00 Meet the director Meelis Muhu.

We'll also throw a potluck-style party, asking participants to bring their own food and drink to share with everyone at the big communal table.

https://stationnarva.ee/