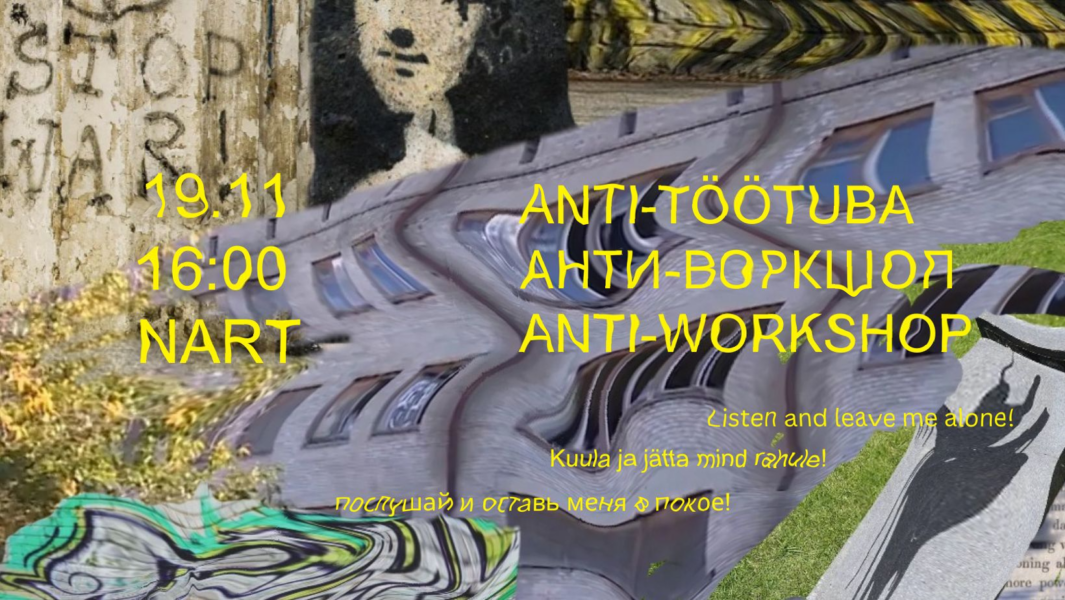 19.11 at 16:00-22:00
Free, registration required
NART (Joala 18)
Where does art and activism meet?
The anti-workshop is for young people who would like to explore historical events in Narva (such as the Kreenholm strike in 1888, the bombing of Narva in 1944, the removal of the Narva tank in 2022, etc.) from personal perspectives. How can these events be linked to art, politics, and societal issues? The workshop will be conducted by the artist Kylm tee.
The workshop will focus on the various connections between activism and art. It will be practical and creative, incorporating various art styles to create one's own messages, gain new knowledge, and discover personal connections with Narva's history. After a communal dinner, a walk will be taken through historical places and favorite spots.
Register here – https://forms.gle/DXZCz3LRJLyj1WoE8
*Please bring old textiles or any items you no longer need at home.
Schedule:
16:00 Workshop: warm-up, introduction, cutting fragments, writing sentences in groups, creating collages, posters, stickers.
18:00 Cooking and dining together
20:30 Nighttime walk in Narva
Kylm tee is a multidisciplinary artist who works with a social and political context, integrating it into workshops to share experiences and creativity in a common safe space. Since April 2022, KT has been organizing collage workshops every month. They are also a co-founder of the d.i.y Daylight.Project and plants & lizards collective.
This workshop serves as an introduction to a project that will take place in collaboration with locals in Ida-Virumaa in the spring-summer of next year.