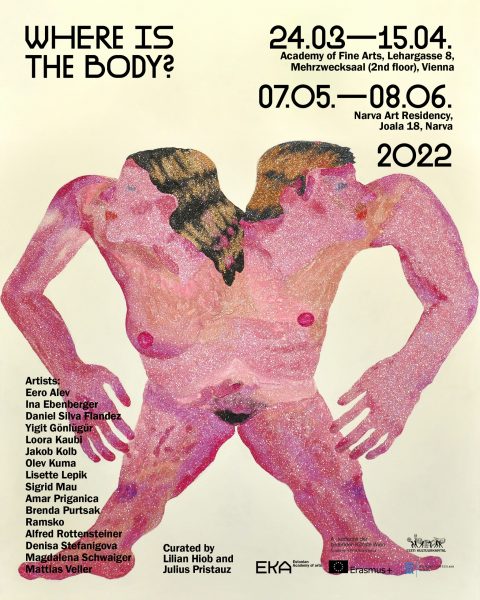 Open times of the exhibition:
7.05 – 8.06
Wed – Fri at 15–19
Sat – Sun at 13–19
Entry 1 €

"Where is the body?" is the group exhibition bringing together the students of painting departments of the Academy of Fine Arts Vienna and the Estonian Academy of Arts. Participating artists have focused on the phenomenon of body in its broadest sense as well as on its representatives and socio-political meanings and possibilities. The current exhibition combines a wide spectrum of viewpoints on the body, both on a personal, social and historical level while examining the issues of belonging, visibility and desire.  
Artists: Eero Alev, Ina Ebenberger, Daniel Silva Flandez, Yigit Gönlügür, Loora Kaubi, Jakob Kolb, Olev Kuma, Lisette Lepik, Sigrid Mau, Amar Priganica, Brenda Purtsak, Ramsko, Alfred Rottensteiner, Denisa Stefanigova, Magdalena Schwaiger, Mattias Veller.
Curated by: Lilian Hiob and Julius Pristauz.
Our partners: Austrian Embassy in Tallinn, Estonian Embassy in Vienna, Erasmus+, Punch Drink, Academy of Fine Arts Vienna, Vilnius Academy of Arts, Estonian Academy of Arts