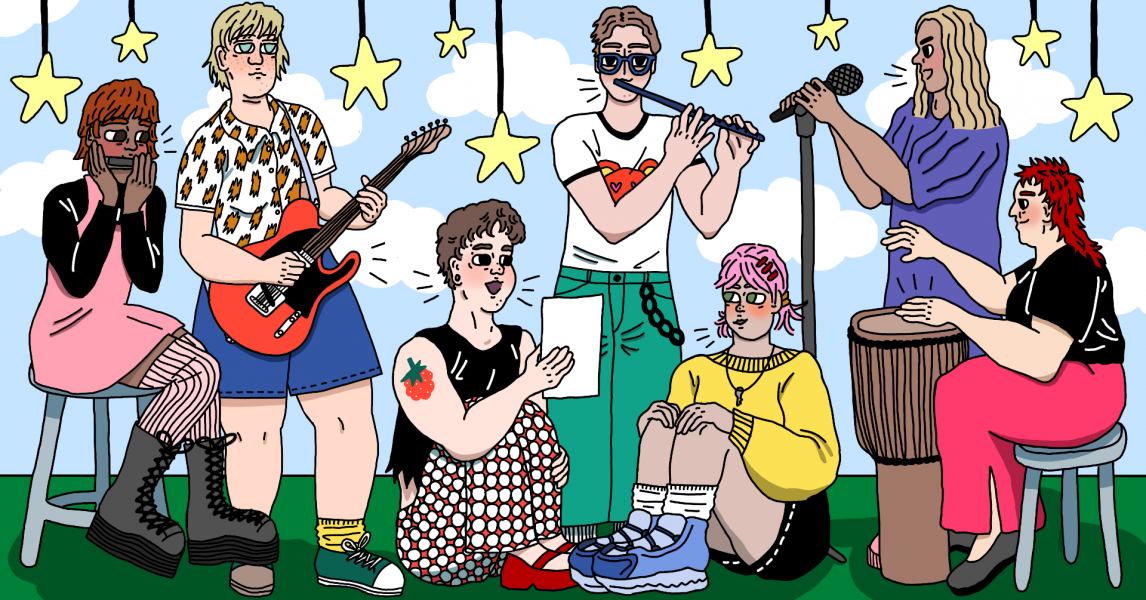 The screening programme "Soundcheck" presents art works that combine critical contents with musical forms of expression.
Saturday, 17 September 18-20h
In the dominant public space, political music can be rarely heard – it is not played on radio, or as background music in shopping centers and cafes. When artists start creating political music, they often respond to the absence of it in public space. The selected art works focus on issues related tp gender roles and feminist politics. The artists are experimenting with the combination of rhythms, melodies and visual images in order to address the listeners not only through intellect but also through affect.
Screening programme:
Techno-Poetry Cooperative "No Avoiding the Apocalypse! " (2021) 75' [in Russian with English subtitles]
Valge Tüdruk "Transparency" (2021) 4' [in English]
Kranye Zori "Zemleroika" (2020) 4' and "Worms" (2022) 5' [in Russian with English subtitles]
The illustration is authored by Nadezda Andreyeva
The event is supported by the Cultural Endowment of Estonia and Nordic Culture Point.
The screening is a follow-up to the queer-feminist songwriting camp that took place in Narva Art Residency in July.
The camp brought together young music enthusiasts from Estonia, Latvia and Lithuania.
The youth exchange was supported through Erasmus+ programme.