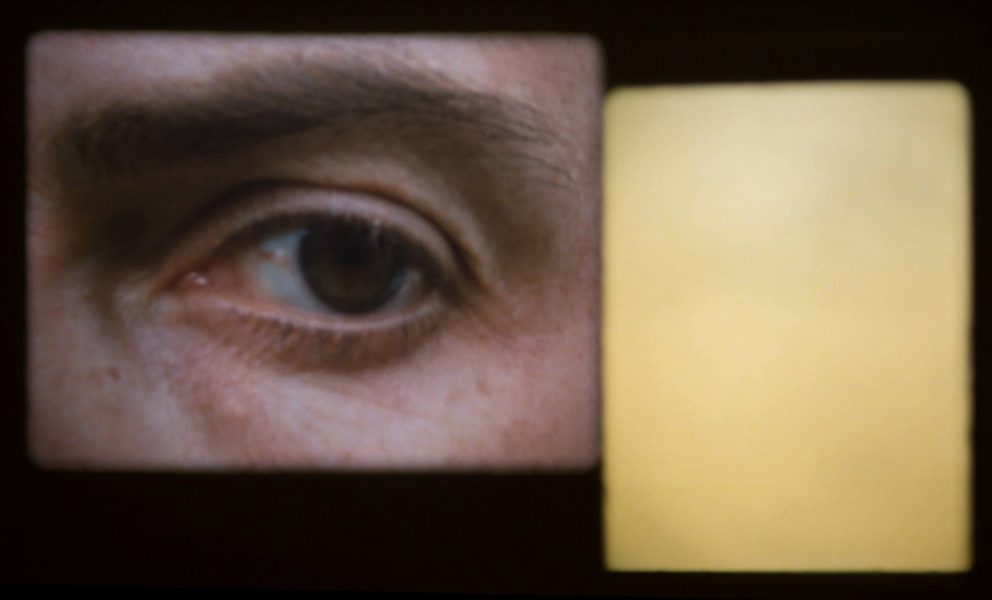 Katja Mater
FILM INSTALLATION "As Much Time as Space"
November 08 – November 11, 2018
Hours: Wednesday-Thursday 12.00-20.00; Friday-Sunday 12.00-18.00
Katja Mater's film installation "As Much Time as Space" at Narva Art Residency (Joala 18, Narva)  is a continuation of a film programme and marks the ending of Paul Kuimet's exhibition "Five Volumes". A meeting with the artist takes place on Sunday, November 11th.
PROGRAMME 11.11:
3 pm –  Lecture by curator Nico Anklam: "Into Deep Space: Conjunctions of Photo and Film or How the Past Imagines the Future"
3.30 pm –  Katja Mater introduces her artistic practice and the work "As Much Time as Space" (atelier visit by Estonian Contemporary Art Development Center)
4 pm –  Discussion round with Nico Anklam, the curator of the exhibition "Five Volumes" and artists Katja Mater and Anu Vahtra (moderated by Ingel Vaikla)
*The exhibition "Five Volumes" is open on November 11th from 12.00
For the finissage music by Dutch DJ duo: David Slotema & Erwin Veenstra
Curator Ingel Vaikla has invited the artist Katja Mater to Narva Art Residency where there will be exhibited her 16 mm film installation "As Much Time as Space". Chosen work was conceived at the van Doesburghuis in Meudon (Paris) at the beginning of 2017 (for the exhibition The Colours of De Stijl in Kunsthal KAdE, Amersfoort, Netherlands). It consists of one film, projected by two projectors, using the time it takes for the film to travel from one projector to the other — 8 seconds, as a framework for the film. The film was shot inside the house of modernist artist couple Theo and Nelly van Doesburg and combines the architectural details of the house with Mater's own drawings. Projected as a split screen, we look at a play between past and present that every once in a while merge to form a new reality, providing a surreal time experience. A wandering narrative exploring tables, stairs, space and time perception, colour and van Doesburg heritage.
Katja Mater (b. 1979) is a visual artist whose practice focuses on the parameters of photography from a meta-perspective. By creating hybrids between photography and other media, she documents something that often is positioned beyond our human ability to see. Mediating between time, space, perception and performance, she records events that simultaneously can and cannot be – holding midway between information and interpretation.
Katja Mater's work has been exhibited internationally in institutions such as Stedelijk Museum Bureau Amsterdam, Centre d'Art Contemporain in Geneva, De Vleeshal in Middelburg, La Casa Encendida in Madrid, Temporary Gallery in Cologne, AMOA-Arthouse / The Contemporary Austin, Fotogalleriet in Oslo, Marres in Maastricht and Kiosk in Ghent. Her book Multiple Densities (2014) was published by ROMA Publications.
www.katjamater.com
Ingel Vaikla (b. 1992) is an Estonian visual artist and filmmaker, who is currently based in Belgium. Her research focuses on the relationship between architecture and its users, as well as the representation of architecture in camera-based mediums. Her films, "The House Guard" (2015) and "Roosenberg" (2017), have been exhibited internationally at group exhibitions and screening programmes, including at deSingel architecture gallery, Antwerp (2017); Màntica Theatre Festival, Cesena (2017) and Estonian Contemporary Art Museum, Tallinn (2016).
"Five Volumes" on Narva Art Residency's webpage
"Five Volumes" in Facebook
Supported by:
KAdE, Amersfoort and Mondriaan Fund, Amsterdam;
Cultural Endowment of Estonia, Estonia 100 art program, The Gambling Tax Council (HMN), Estonian Contemporary Art Development Centre (ECADC), Photography Department of Estonian Academy of Arts, Goethe Institute in Estonia, High Voltage, GoBus, Muddis Brewery.
Organizer: Narva Art Residency
Contact: ann.vaikla@artun.ee