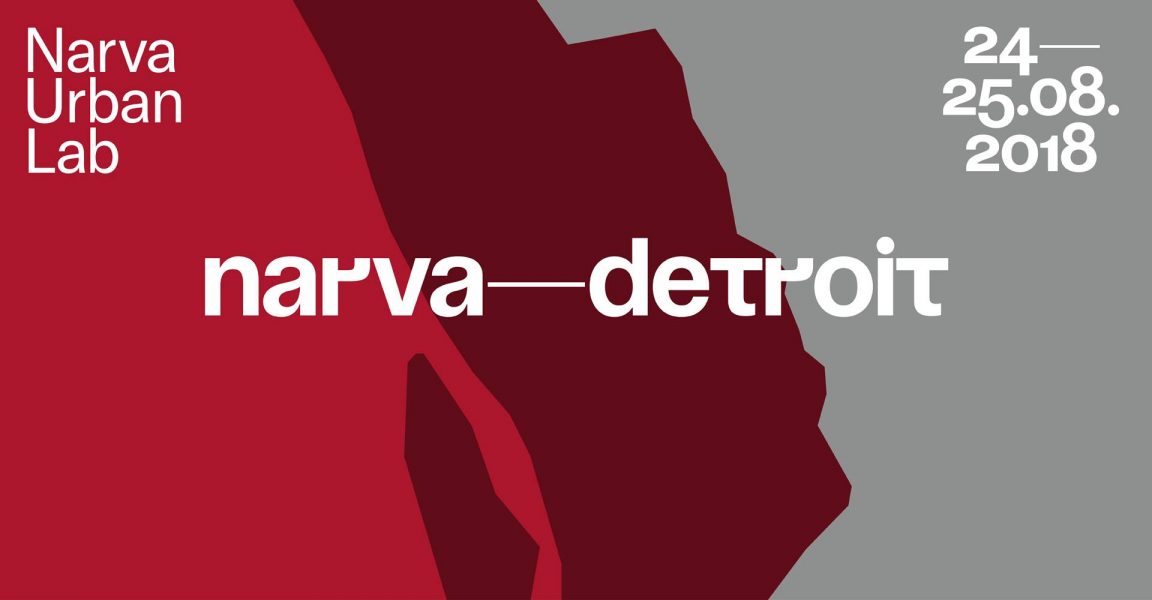 NARVA URBAN LAB
Narva Urban Lab aims to activate urban spaces by organising and establishing an international platform for the study of urban geography. The urban laboratory will critically examine the paradigm of urban transformation in regard to its potentialities and opportunities. Its aim is to envision innovative solutions, while taking into consideration the temporal paradigm of past, present, and future.  
The first laboratory "NARVA – DETROIT: Post-industrial Cities on the Border – Where to?" will bring together the Narva community with international guests from Detroit, as well as from neighbouring cities such as Helsinki and Riga. Narva and Detroit share many similarities: both are border cities, are built around a river, possess a crumbling industrial base entwined with a shrinking population. The laboratory will explore the possibilities of adapting to social and economic change by asking: what can Narva learn from city like Detroit? The symposium will consist of four panel discussions, each focusing on a different urban issue.  
The symposium will target the variegated causes and impacts of the shrinking of post-industrial cities. The discussion will reflect the artistic experiences of the participants, as it traverses topics ranging from the values and potential to the challenges faced by both Narva and Detroit.
Detroit, the world's automotive capital, had a population of 1.8 million at its' highest peak but now it has fallen to less than 700 000 inhabitants. The Kreenholm Manufacturing Company in Narva used to be a source of employment for 12 000 workers. The architecture of every city embodies manifestations from the previous historical period. One can see the traces of collective dreaming and ambitions to realize utopian societies. What is the role of artistic practices in re-envisioning new possibilities for post-industrial cities and their inhabitants?
Narva Urban Lab will also seek for a solution to the withering of border cities. How to assemble collective power for creating a diverse living environment in a city with a diminishing population? What are the methods and tools to support local communities? How to design sustainable urban spaces in a continuously changing social and economic context? Lately, people from all around Estonia have discovered Narva as a romantic-dystopian post-industrial city with an untapped potential, however, the majority of locals do not share this excitement. What are the challenges and potentials of the grassroots level activism and how to support it? After all, local communities are central actors in transformations within urban living.
Narva Urban Lab provides a platform to ask unavoidable questions, produce new thought patterns and ideas, connect people and create synergy through discussions and practical interventions – all that through envisioning a new spaciality for Narva.
Curators: Ann Mirjam Vaikla (Narva Art Residency), Eve Komp (Ruumiringlus) and Liina-Liis Pihu (Ruumiringlus)
TIME SCHEDULE
Friday, August 24th
10:00 – 10:30 Morning coffee and registration for the symposium  at Narva Art Residency
10:30 – 18:00 Symposium at Narva Art Residency
10:30 Introduction by the organizers: Narva Art Residency and Recycling Spaces
10.45 I Hypothesis: Narva meets Detroit: Potentials and challenges of the postindustrial border cities
Moderator Francesca Berardi (IT), speakers: Maria Kapajeva (EE, Narva/UK), Scott Hocking (US, Detroit)
12.15 – 13.15 Lunch
13.15 Proposal 1: Re-envisioning a City: Artistic and urban practices
Moderator Ann Mirjam Vaikla (EE), speakers: Tommi Vasko and Kaisa Karvinen (FI), Mārcis Rubenis (LV)
14.45 Proposal 2: Shrinking Urban Space: Changes and Adaptation
Moderator Kaja Pae (EE), speakers: Ivan Sergejev (EE, Narva), Dan Pitera (US, Detroit), Tõnis Savi (EE)
16.00 – 16.30 Coffee break
16.30 Proposal 3: Multicultural Environment: The role of community initiatives
Moderator Aet Kiisla (EE, Narva), speakers: Karin Bachmann (EE), Laur Kaunissaare (EE), Vladimir Naumov (EE, Narva)
22:00 Concert and afterparty: DOPPLEREFFEKT – Live A/V Show (US, Detroit), Sansibar – Live (FI, Helsinki), Nikolajev (EE), Marcel Düšess (EE); PTF1987 (EE, Narva), Denis Punch (EE), Raul Saaremets (EE), Deeon R & Danass (EE)
Exhibition "Post-Nuclear Identity" by Neringa Rekašiūtė (LT), at Narva Art Residency
Saturday, August 25th
11:00 – 15:00 "Kreenholm Day": open air flea market, workshops, street food around Narva Art Residency
11:00 – 13:00 Open studios, coffee morning, artist talks with Lisa Wilkens (DE) and Gary Markle (CA) at Narva Art Residency
12.00 Urban installation "Kolmik", in front of Narva Art Residency
13:00 – 19:00 Urban walks and presentation of "Alternative Narva Map"
13:00 Kreenholm Factory
15:00 Baltijets Factory
17:00 Discover Narva
19:00 – 20:00 Cinema evening presented by Tour d'ÖÖ
20.00 Tour d'ÖÖ Narva joint bicycle ride
ORGANIZERS
Ruumiringlus
Non-Profit Organization Ruumiringlus (transl. Recycling Spaces) was started in 2016 by MTÜ Linnalabor (transl. NGO Urban Lab) to focus on the possibilities of temporary and interim use of vacant buildings and sites in the city. They see the interim use of property as a tool to enliven vacant spaces, empower communities and bring advantage to property owners. Their goal is to improve the socioeconomic well-being of people and communities by bringing together activists, ideas and local needs by providing them with dynamic spaces.
Narva Art Residency
Narva Art Residency is a unique cultural platform facilitating residencies, art exhibitions, talks and educational workshops. It is located in Narva city on the Estonian-Russian border at the historical Kreenholm area. The International Artist-in-residency program is open for artists operating across a wide range of disciplines, including Visual Arts, Music, Performance, Architecture, Design, Film, Literature and Curatorial Practices. It aims to generate creative exchange between practitioners and to strengthen links with the local community. The promoter of the Narva Art Residency is the Estonian Academy of Arts in cooperation with Narva Gate and it is supported by the Estonian Ministry of Culture.
SYMPOSIUM SPEAKERS
Francesca Berardi
Francesca Berardi is a New York based journalist and researcher who loves biking. She has a masters degree in contemporary art. Between 2016 and 2018 she worked as a fellow at Columbia Graduate School of Journalism, where she earned an MA in Politics. Born and raised in the Italian motorcity, Torino, Francesca moved to the US in 2011. Her fascination for places undergoing major transition dates back to those years, when she curated art projects focusing on the role of art in post-industrial sites. In 2016 she was invited to be one of the Fellows of Ideas City Detroit, an experimental workshop dedicated to the future of cities. She is the author of a book dedicated to Detroit, "Detour in Detroit".
Maria Kapajeva
Maria Kapajeva is an Estonian artist, who works and lives in London, UK. Her multicultural background drives her practice to mine a diverse spectrum of cultural identity and gender issues within historical and contemporary contexts. Working with video, installation and object-based art she embeds found objects and images into unique pieces using various printing and stitching techniques. Kapajeva teaches at University for the Creative Arts, Farnham and she also works for the research project Fast Forward: Women in Photography. She has done several solo exhibitions, participated in international group exhibitions, won awards and published her first artist book "You can call him another man".
Scott Hocking
Scott Hocking was born in Redford Township, Michigan in 1975. He's a 6th generation Detroiter, descended from Baltic Polish immigrants and a long line of Cornish copper miners, who settled in Michigan's copper harbor. He has lived and worked in Detroit proper since 1996. He creates site-specific installations, sculptures and photography projects, often using found materials and neglected locations. Inspired by subjects ranging from ancient mythologies to current events, his artworks focus on transformation, ephemerality, chance, and the cycles of nature. His artwork has been exhibited internationally and nationally, including the Van Abbemuseum, Kunst-Werke Institute, Kunsthalle Wien, the Museum of Contemporary Art Chicago, the Smart Museum of Art, the School of the Art Institute Chicago, the Museum of Contemporary Art Detroit etc. He is represented by David Klein Gallery, Detroit.
Ann Mirjam Vaikla
Ann Mirjam Vaikla is a scenographer and a performance maker. She has been directing Narva Art Residency since autumn 2017, which experiments with community building in a town on the border of Estonia and Russia. She is part of the creative collective Vaikla Studio. In New York, she participated in the Storefront for Art and Architecture internship programme, focusing on curatorial practices (2016/2017), and worked for the Byrd Hoffman Foundation, as well as at the Invisible Dog Art Center in Brooklyn. She has participated in the Arts, Letters and Numbers Residency and the Watermill Center International Summer Program (2015/2016). She completed her studies in scenography at the Norwegian Theatre Academy / Østfold University College in 2015.
Trojan Horse
Kaisa Karvinen is a Helsinki based architect, who has worked with many stages of urban development from theoretical research, city planning and building control services to drawing buildings at architecture offices. Kaisa has also made scenography for theatre and exhibition furniture for museums, and she has a background in acting.
Tommi Vasko is a graphic designer and researcher based in Helsinki. He has written theoretical and fictional texts about design practises and about the near future and about visual phenomena rising between emerging information technologies and ecological thinking. Tommi also lectures, develops web content and has worked together with performance artists and architects. Together with the design journalist Ida Kukkapuro they founded the Trojan Horse summer school, an initiative that organizes summer schools, live action role-plays and other events in order to explore the boundaries and preconditions that define the field in which architects and designers operate today.
Mārcis Rubenis
Mārcis Rubenis, a co-founder of the "Free Riga" collective, is developing spaces for social and
creative initiatives within abandoned and unoccupied buildings. Born in Riga before the collapse of the Soviet Union, he grew up confronted by the striking contrast between the crony capitalism of the 1990s and Riga as the fastest growing capital of EU during the late 2000s. Mārcis has been working with civic engagement and collaborative planning practices, especially focusing on the co-creation of space for experimental and social ideas.
Kaja Pae
Kaja Pae is an architect and physicist, editor-in-chief of the Estonian architectural magazine Maja. In addition, she works as a researcher at the University of Tartu Institute of Physics and as a lecturer at the Estonian Academy of Arts. Kaja has been involved with urban issues in practice and theory, organized and moderated workshops and conferences related to architectural and urban space, contributed space-related public lectures, published articles on architectural and urban space, edited "City Forums" and "Joint Space" books, participated at the Venice Architectural Biennale in 2006 with the Estonian exposition.
Ivan Sergejev
Ivan Sergejev is an architect, Fulbright scholar, technology enthusiast and TEDx speaker, currently serving as the chief city architect of Narva. Ivan has gained diverse professional experience in both Europe and the United States, most notably at the world's leading office for architecture and cultural analyses Office for Metropolitan Architecture (OMA*AMO) in New York City. Ivan is an outspoken promoter of design thinking and the author of various publications related to architecture and design.
Tõnis Savi
Tõnis Savi is an architect and city planner, the founder and leader of the Estonian Urban Cyclists Union and Tallinn Bicycle Week, as well as the founder of Rattastuudio Jooks, a store and computing center focusing on cycling in urban areas. His day-to-day work relates to architecture, spatial concepts, marketing, communication, and bikes. The last major work in this area is the creation of the Tallinn Wheel Strategy 2018-2027.
Dan Pitera
Dan Pitera, FAIA, is a political and social activist masquerading as an architect. He is the Executive Director of the Detroit Collaborative Design Center (DCDC) at the University of Detroit Mercy School of Architecture which has been awarded with several prizes. Dan co-led the Civic Engagement process for the Detroit Works Project Long Term Planning in 2010. On 2013, Long Term Planning team released its decision-making framework titled: Detroit Future City. Dan was also a participant of the 2008 and 2012 Venice Biennale of Architecture. He has co-authored the book, Syncopating the Urban Landscape: More People, More Programs, More Geographies and co-edited the book, Activist Architecture: The Philosophy and Practice of the Community Design Center.
Aet Kiisla
Aet Kiisla a native of Ida-Virumaa region. After living, working and studying in the capital region of Estonia, Harjumaa for a decade she has returned and is currently living in Narva. Aet teaches public management in the University of Tartu Narva college. Aet believes in and stands for empowering local grassroot initiatives.
Laur Kaunissaare
Laur Kaunissaare is a dramatist at the NO99 theater in Tallinn. Previously he has worked as a dramatist at Kanuti Gildi Saal and Tallinna Linnateater. He was also the program coordinator for the European Capital of Culture 2011 Tallinn.
Karin Bachmann
Landscape architect Karin Bachmann has designed many prominent public spaces in Estonia – the outdoor areas of the Estonian National Museum, the public square of Tartu's Train Station, the public square in front of the joint building for ministries, and Roosi street in Tartu. She is one of the founders of landscape architecture magazine ÕU which is the first of its kind in Estonia. In lectures, exhibitions and articles she stands for the animal rights  and good public space.
Vladimir Naumov
Vladimir Naumov – the head of the NGO Uus Sild (transl. New Bridge). Since 2001 he has been involved in the field of NGOs, where he works with risk groups (youth, unemployed, released from prison) on their social adaptation and rehabilitation. Vladimir is a specialist in the sphere of urban mobility and informal learning. In 2017, with the financing support by the Council of Ministers of the Nordic countries, Vladimir together with international partners implemented the Peoples Parks project in Narva, involving citizens and excluded groups in the city improvement. As a result of this work, new urban programs have been launched in conjunction with the inhabitants of Narva, the creation of urban gardens, squares and a large Narva EV 100 park of 5 hectares.
PROGRAMME
Streetsport installation "Kolmik"
A simple street installation offers a variety of ways to feel and move differently in urban areas. "Kolmik" is an urban space radar seeking to activate the Kreenholm district.The author of the installation is Silver Liiberg.
The installation was completed in cooperation with the Estonian Skateboarding Association and with the support of the City of Narva.
Exhibition "Post-Nuclear Identity"
"Post – Nuclear Identity" is an ongoing photo project by the Lithuanian photographer Neringa Rekasiute. It focuses on a small town in Lithuania called Visaginas, which is experiencing an identity crisis after the closure of the local nuclear power plant. The town which was established and built in 1975 as a planned town to accommodate workers from all over the Soviet Union. The town became a unique phenomena as a "Soviet Utopia come true".
Concert
Performers: DOPPLEREFFEKT – Live A / V Show (US, Detroit), Sansibar – Live (FI, Helsinki), DJ-s: Nikolajev (EE), Marcel Dousse (EE), PTF1987 (EE, Narva), OG Denis Punch (EE) Raul Saaremets (EE) ja Deeon R & Danass (EE). Mägede hääl & IDA Radio will bring you the Narva Urban Lab concert program at Narva Art Residency. The concert is supported by the Baltic American Freedom Foundation.
Kreenholm Day
Kreenholm Day will be organized in collaboration with the NGO Loomeloom which aims to activate the unique Kreenholm district by catching the attention of Narva's inhabitants. The event will feature a flea market, various workshops, street food and a possibility to explore the Kreenholm district.
Urban walks
To explore the industrial landscape of Narva, there will be walks to the Kreenholm factory and the former Baltijets factory to see the buildings and area. In addition to that, Ruumiringlus  will organize a walk which highlights the hidden and discarded aspects of the Kreenholm district for a qualitatively different experience of Narva.
Tour d'ÖÖ and cinema evening
Tour d'ÖÖ (Tour of the night) is an event for bicycle enthusiast that is organized all around country to mark the 100 centenary of Estonia. The Narva leg of this grand tour will be held in the evening of the 25th of August and is organized in cooperation with Narva Art Residency as a part of Narva Urban Lab. The event will start with a screening short films about bicycle culture in the screening room at Narva Art Residency followed by a bike ride through the city when the sun has set.
Artist-in-residency
On Saturday (25.08) there is a possibility to meet two artists, Lisa Wilkens (DE) and Gary Markle (CA), who are currently in residency in Narva, and see what they have been working on. Lisa Wilkens uses drawing as an epistemic operation to process information from photographic reproductions, printed matter and books. She is interested in connections between industrial and artistic labour as well as post-work and sharing economies. Lisa Wilkens currently works on a series of drawings under the title WHY WORK?
Gary Markle is a textile artist who through the lense of expanded fashion examines the connections between the stories we tell through what we wear, either consciously or unconsciously. His work focuses on narrative and identity and the relationship between these concepts and materiality, specifically related to place/space asking the question: Wear/Where Do We Belong?
The event is organized by Narva Art Residency (Estonian Academy of Arts) and NGO Recycling Spaces
Partners: Estonian Academy of Arts, Narva Gate, IDA Raadio, Mägede Hääl, MTÜ Loomeloom, Eesti Rulaliit, Eesti Linnaratturite Liit
Supporters: The Ministry of Culture of Estonia, The Cultural Endowment of Estonia. Architecture Endowment, Baltic-American Freedom Foundation, Narva City, US Embassy in Estonia, Finnish Institute, Canada Council of the Arts
related artists