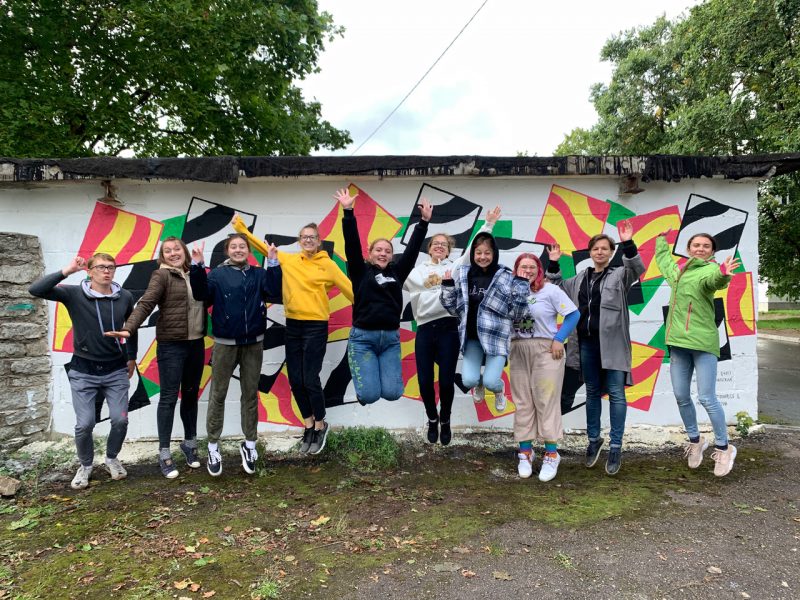 A group of young people Art Revolutionaries / Narva st.ART together with an artist Maria Kapajeva work on several new murals in Narva, which are based on the existed Kreenholm designs. The idea came from a shared wish to make the town more vibrant and attractive for local people and its visitors. By using the existed heritage of Narva, such as a incredible collection of Kreenholm designs at Narva Museum, the project aims to celebrate its past in the urban spaces using graffiti / murals as the art form for it.
With the jointed energy and ideas, the team has selected a few designs for the murals from the museum collection. Between August 21-31 three of the designs will be painted by the team with the help of volunteers. More designs are in the progress and will be confirmed in September. The locations for those were selected around Kreenholm area of Narva to revitalise those places. Addresses of the confirmed murals: Turu 2, Kalda 6, Joala 22a (next to The Kreenholm Garden)
The project is supported by Garage 48 and Cultural Endowment of Estonia.
The team thank all volunteers, who participate in this project, all owners of the locations, Elena Howart and Narva Museum for the workshop and access to the collection, Jana Vorontsova for creating illustrations for each design, Deniss Polubojarov, Katri Raik, Victoria Punga and Narva Art Residency for all support they have provided.
Facebook tags:
https://www.facebook.com/ARTnarvast
https://www.facebook.com/maria.kapajeva
#kreenholmmurals
Instagram tags:
@narva_st.art
@mkapajeva
#kreenholmmurals
related artists