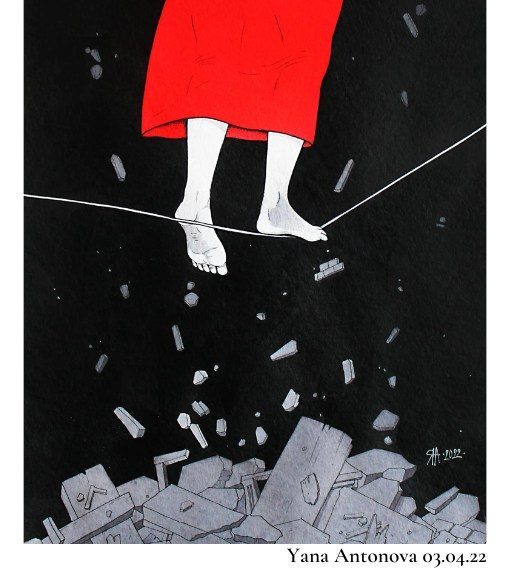 3 December at 16:00
Admission free
On Saturday, December 3, we will be talking about art in the new reality with art historian Elena Howarth (Sohrannova).
The war in Ukraine has been going on for nine months. Many artists, photographers, musicians, poets and writers from all over the world have been reacting, reflecting reality and expressing their attitudes to what is happening through their art since the first days of the war. For them, art is a way to acknowledge and convey their feelings. Art can sound louder than spoken words and replace the unspoken, these statements can have tremendous power. The visual language of the artist plays a powerful role, reflecting time.

Artemy Troitsky, a journalist and art collector, said:
"The role of the artist during the war is to fight for freedom and justice. Some do it on the battlefield, some do it with their works of art. Some comfort the wounded, others cheer up the warriors. In any case, those artists who have a sense of responsibility and a heart in the right place should not be left out of the tragedies of war and should help the forces of goodwill."
Art engages people on many different levels at once, drawing attention to socially relevant issues. It's a very important critical voice and that is the main point we will discuss in our meeting.
Art historian Elena Khovart (Sohrannova) was born in Saratov, educated in St. Petersburg – at the Pedagogical University and the Academy of Arts. She taught art history, design and aesthetics at secondary and high schools and for many years worked in the Narva Museum Art Gallery. Elena has been published many times in scholarly journals on art history, art criticism, as well as in the press and art albums.
The audience appreciates Elena's courage, her ability to create a dialogue and speak on the most complicated topics, her lively presentation, erudition, energy and ability to draw everyone into the world of art.
Organized by Art Republic Krenholmia MTÜ with the support and participation of the German Embassy in Tallinn, Narva Linnavalitsus, NART
The poster for the event features the work of Yana Antonova (2022)