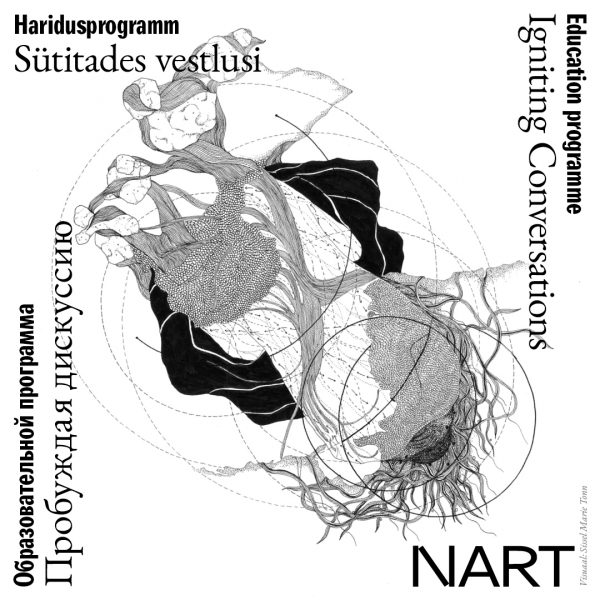 Education Programme Igniting Conversations
Curator: Kerttu Juhkam
Participants: Anfissa Jerjomina, Ekaterina Koreshkova, Ilja Dokudin, Ljubov Terukova, Marija Bolšakova, Margarita Skripkina, Polina Pappinen, Vadim Markov
Supervisors: Alma Heikkilä, Ann Mirjam Vaikla, Manfred Dubov, Piibe Kolka, Sandra Kosorotova, Saskia Lillepuu, Sepideh Ardalani, Vera Anttila
August 2020 – June 2021
NART – Narva Art Residency
Joala 18, 20103 Narva
The aim of the education programme accompanying NART's international group exhibition Point of No Return. Attunement of Attention (24.04–20.06.2021) has been to introduce contemporary art to the young people of Narva. The programme has prepared participants to become tour guides of the exhibition, introducing it to the local community. Information about the guided tours by the NART volunteers will be announced soon on the residency's website and social media.
The thread throughout the educational programme has been to address the ecological imbalance and distress characterised by the increasing toxicity of environments, destruction of habitats and the rapid extinction of species. Participants have met with the curators of the exhibition and film programme as well as the artists via presentations and workshops, both physical and virtual. During these meeting the youth have been introduced to various working methods and creative processes.
Kerttu: My aim was to create a programme that I would have liked to take part in as a young person. A programme that is not just knowledge transference but ignition. NART volunteers are encouraged to recognise connotations and different ways of thinking. We use art as a tool to foster transdisciplinary thinking and find personal meaning. We examine play with materials, ideas, insecurities and strengths to show the humanity and trials of creation, rather than only the final product and what it is meant to say. (Igniting Conversations, Kerttu Juhkam's essay in the exhibition catalogue).
Kerttu Juhkam (b. 1986) is an artist, graphic designer and art educator who is interested in finding personal connections using process-oriented and transdisciplinary approaches to art and education. Since 2018, she has organised educational and public programmes at the Tallinn Art Hall contemporary art gallery and worked as an art teacher and graphic designer at Sally Stuudio Art School. She believes in taking a moment to slow down to weave conversations about ways of being – between art and the viewer, humans and other-than-humans. Doing so gives people agency and encouragement to think along, question, voice their opinions and participate in the world creatively. Juhkam studied Printmaking (BA in Fine Arts) at the Estonian Academy of Arts in Tallinn and at the Royal Academy of Arts in the Hague, Netherlands. In Autumn 2018, she began her MA studies in Educational and Developmental Sciences at Tallinn University.
Supporters: British Council in Estonia and NomadIT.

related artists