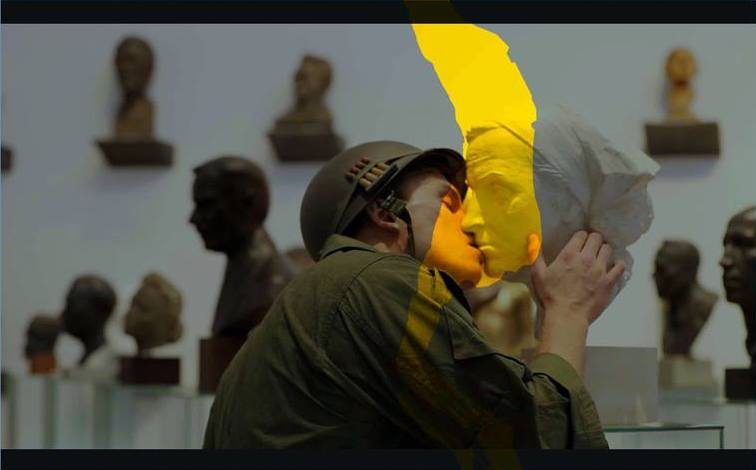 Laura Pählapuu
TAKE ME TO YOUR RIVER
Performers: Elsa-Hirte Epner, Joonas Koff, Laurits Muru, Michael Thomas Scotti, Risto Vaidla
December 09 – December 28, 2018
NART – Narva Art Residency
Gallery spaces, 1st floor
Joala 18, 20103 Narva
Hours: Wednesday – Friday 12.00-20.00; Saturday – Sunday 12.00-18.00
#võtamindomajõkke #laurapählapuu #narvaartresidency #NART
On December 8th opens Laura Pählapuu's exhibition Võta mind oma jõkke (Take Me To Your River) at Narva Art Residency.
"Tip me in your smooth waters
I go in
As a man with many crimes
Come up for air
As my sins flow down the Jordan"
*Leon Bridges "River"
We are used to thinking about war as an abstract political phenomenon, but war is always personal. War is the most drastic force when transforming a space – it happens at a certain state, land, street, backyard, apartment, room. Idyllic landscapes become bomb holes, cities become ruins. Churches are turned into hospitals, schoolhouses into ammunition storage, living houses become headquarters.
The artist has avoided showing mere violence by placing soldiers into a public space or into a private room, she has added pathetiс Hollywood-kind of music and recognizable symbols from classical painting. Space, where hyper-pathetic and absurd meets, is put in dialogue with a historic figure – Sadako Sasaki. She is a Japan girl, a war victim and a symbol of Hiroshima atomic bombing.
Laura Pählapuu's exhibition deals with identifying the meanings of space and how to transform these discoveries. The artist is interested, by using simple videographic elements, how to change a formal clean room into something subordinated, lost and destroyable.
Laura Pählapuu (b.1984) is an artist based in Tallinn, Estonia. Her work has been exhibited at KUMU Art Museum, Tallinn Art Hall, Project Space März, Tartu Art House, Rael Artel Gallery, ArtDepoo and Crous-Beaux-ArtsGallery in Paris. She has worked as a scenographer at Tartu New Theatre, Theatrum, Von Krahl Theatre, Theatre NO99, Theatre Centre Vaba Lava, Helsinki City Theatre etc.
Thanks to: Maria Elisaveta Roosalu, Eero Epner and NO99
The exhibition is supported by the Cultural Endowment of Estonia.