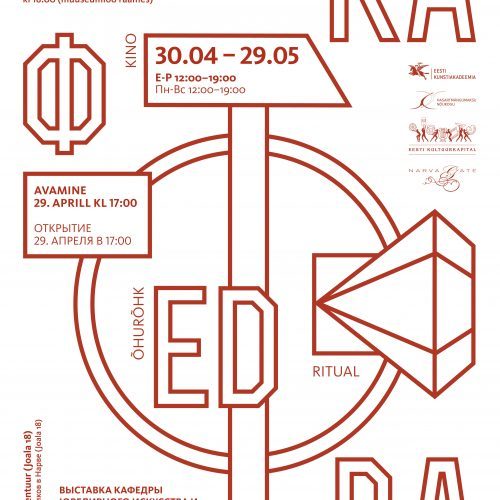 KAФEDRA
Exhibition by the department of Jewellery and Blacksmithing at the Estonian Academy of Art
April 29 – May 29, 2016
NART – Narva Art Residency
Gallery spaces, 1st floor
Joala 18, 20103 Narva
Hours: Monday – Sunday  12.00 – 19.00
Opening 29 April, 5 pm at Narva Art Residency
KAФEDRA presents an overview of work by the department of Jewellery and Blacksmithing at the Estonian Academy of Arts from the last ten years. The main part of the exhibition comprises work from the department's collection of student work, 5 exhibits in total: 400 works by 70 artists. The work of the two laureates for the 2015 Young Jewellery collection (Sofia Hallik and Darja Popolitova) will also be presented and acclaimed with a thematic exhibition within the larger exhibition.
Other special exhibits include the presentation of oil shale as material for jewellery, works from the workshop by Spanish artist Gemma Draper and flight-themed work shown in January in Tallinn at the exhibition Õhurõhk (Air Pressure).
Earlier exhibitions of student work have taken place in 1999 and 2014, when the department of Jewellery and Blacksmithing celebrated its 75th and 90th anniversaries, respectively. Both exhibitions, Ferromenaalne 1 and Ferromenaalne 2, were held in Tallinn. This time the exhibition reaches out geographically and showcases the department and the Academy of Arts as a whole, in Narva – from where many talented students have come to study during recent years.
Public events:
7 May, 2 pm lecture
14 May, 2 pm lecture and tour of the exhibition
Organizers: Kadri Mälk, Sofia Hallik, Piret Hirv, Eve Margus-Villems, Nils Hint, all the technicians and students.
Thanks: Estonian Cultural Endowment, Estonian Gambling Tax Fund, Estonian Academy of Arts, Foundation Young Estonian Jewellery, Narva Gate OÜ