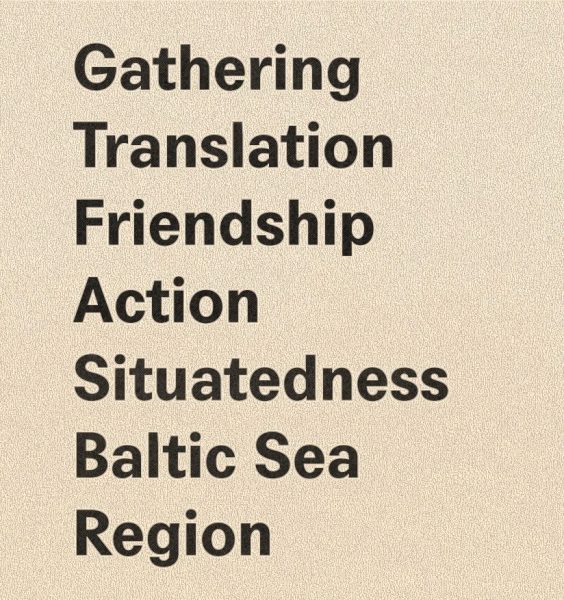 The Indeterminate Terrain Between Disciplines
– Introduction to the (Re)configuring Territories program
With Ksenia Kaverina, Karoliina Korpilahti and Ann Mirjam Vaikla
The first (Re)configuring Territories talk is a discursive introduction to the research program. How can residencies and gatherings create discussions about borders, territories, and design and architecture cultures?
(Re)configuring Territories program curators Kaisa Karvinen and Tommi Vasko will talk with curator and archivist Ksenia Kaverina, program director Karoliina Korpilahti and Narva Art Residency's director Ann Mirjam Vaikla.
The conversation can be followed online on Zoom and at https://reconfiguringterritories.net
Participants:
KAISA KARVINEN is a Helsinki-based architect and writer. Kaisa has worked in the field of architecture in different roles from theoretical research to city planning and carried out spatial design work in museum and theatre contexts. Over the last years, her practice has been moving towards something more collective, feminist and research-based, performative and speculative. In 2019, Kaisa co-edited the book Borrowing Positions – Role-playing design and architecture with Ott Kagovere and Tommi Vasko. Kaisa is currently working as a curator of the (Re)configuring Territories research program.
KSENIA KAVERINA was born in 1988 in Saint Petersburg (Russia) and lives in Helsinki (Finland). Her background is in linguistics, French philology, curating, and management. She has worked as a curator with the Aalto University campus programs, collaborated with Design Museum Helsinki, and has been part of artistic and curatorial projects in Finland and internationally. Currently, she is a doctoral candidate at the School of Art, Design, and Architecture at Aalto University, where she previously completed Master's studies in curating. Her areas of interest, that brought her to (Re)configuring Territories, include languages, cities, borderlines, and translation. She is joining the project as a curator and archivist, to support and make it public especially in the final stages.
KAROLIINA KORPILAHTI (1981) is the Head of Arts and Culture Program at the Finnish Institute in Estonia. She holds a master's degree in Aesthetics from the University of Helsinki. Karoliina has over 15 years of experience working with arts and culture in many different roles, such project leading, producing, curating, lecturing, writing, and administrating. She is a member of the jury at Helsinki Photo Festival. Previously, she has worked at Frame Contemporary Art Finland and at the Helsinki City Culture Division.
ANN MIRJAM VAIKLA is the director of Narva Art Residency (NART). She is an alumna of the Norwegian Theatre Academy (Norway) and Novia University of Applied Sciences (Finland). Based in Tallinn and Narva, her practice lies in the intersection of performing and visual arts. She is currently a CEC ArtsLink International Fellow and enrolled at the long-term residency program of Triangle Arts Association (NYC) and Grand Central Art Center (CA) wherein she is researching the role and potential of 'social sculpture' as an intertwinement of one's' artistic vision in dialogue with community engagement. In her research she is drawing inspiration from her experience of leading, since 2017, NART – working mostly on curatorial projects in the field of contemporary arts focused on collaborative and collective art practices that include community involvement. She is one of the commissioned artists for the VII Artishok Biennial (Kai Art Center, Tallinn) wherein she is working on a generational story of growing up in the midst of Soviet relics as a response to a curatorial proposal "Copy".
TOMMI VASKO is a Helsinki-based graphic designer and researcher who writes theoretical and fictional texts about design practices of the near future and about visual phenomena rising between emerging information technologies and ecological thinking. Tommi approaches his practice as an interdisciplinary collaborative process in which philosophical reflection and everyday maintenance labor relate to experimental ways of organizing design education, approaching technology as well as making images, videos, and texts.
This is one of three talks that took place in December 2020. The other two are:
Feminist Fairytales, Parties, and Eating Together as Spatial Practices
– With Maria Muuk and MYCKET
Monday, 14 December 2020, 16:00 (EET)
Anthropology, Fieldwork, and Design Research
– With Francisco Martinez and Polina Medvedeva
Tuesday, 15 December 2020, 16:00 (EET)
The events are programmed by the program's curators, architect Kaisa Karvinen and graphic designer and researcher Tommi Vasko.
*
(Re)configuring Territories is a three-year program (2019, 2021—2022) organized jointly by the Finnish Institute in Estonia, Narva Art Residency, Narva Urban Lab and Trojan Horse. The program is kindly supported by the Kone Foundation.
More information at https://reconfiguringterritories.net
Facebook LINK