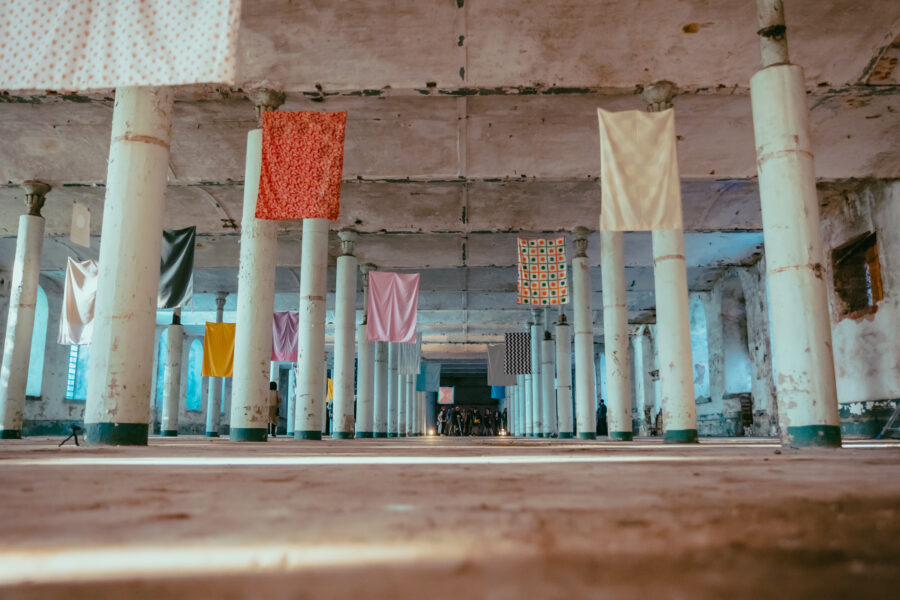 Night art tours in Kreenholm
Friday, 8 September 22:00 and 00:00
Saturday, 9 September 22:00 and 00:00
Entrance with the ticket to the festival

Meeting point: Kreenholm main gate https://goo.gl/maps/6KtbuX772EnCrNp76
Art tours in the famous Kreenholm colossus take place in the late hours of Station Narva, when the festival sets to move from Vaba Lava towards Art Club Ro-Ro. The tours' meeting place is at the southern gates of Kreemholm, and you can also take a bus there from Vaba Lava at 21:30 and 23:30. You'll be given a flashlight and taken on a night walk through the manufactory. You will pass the newly-lighted Joala factory to reach Varesesaare and explore the pop-up exhibition "Solid Plot" and the audiovisual installation created for the festival. One tour lasts about an hour.
Multimedia installation
The authors of the installation are Olga Wardega and Christoph Zeckel, artists of the Narva Art Residency. The two travellers from Poland and Germany-Malaysia, met in Porto, Portugal and have been collaborating ever since, creating performances, site-specific installations and audiovisual works.
During their Narva residency, they have continued their practice of creating site-specific audio-visual installations using techniques of projection mapping and spatial audio. The culmination of this process is an installation in the Kreenholm Manufacture.
By documenting what remains of sound and light as a medium and engaging with the people connected to the former mill, they examined how the abandoned buildings relate to the people of Narva and vice versa. They explored how such spaces, once full of life, have persisted in the memory of the region and what will happen with the remnant that was left behind and given over once more to ever-persisting nature.

Check out the festival program here: https://stationnarva.ee/