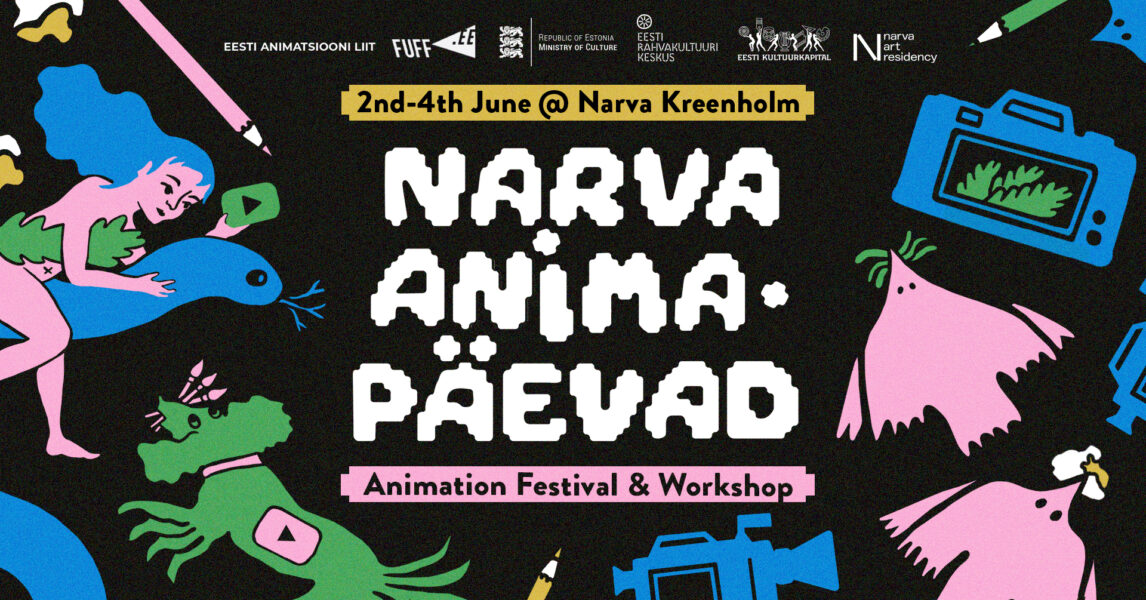 Narva Anima Days is a first-time animation festival that includes workshops, film screenings and creative time spent together in the beautiful Kreenholm art residency building in Narva.
FUFF's (Finno-Ugric Film Fond) goal is to bring together young people who speak either Estonian, Russian or English and offer the opportunity to create animated films cross-culturally. They will create new animations under the guidance of professionals in various workshops and analyze the work of internationally recognized authors.
If you are 16+ years old and want to express yourself creatively (and freely) – then sign up for the festival here: https://forms.gle/euSYWxuz53Du3fLy6
The workshops:
👉🏼 Puppet film (building a puppet with wire inside to animate it)
👉🏼 Strata-cut animation with modeling clay (cutting layers of plasticine)
👉🏼 Paper cut-out animation (creating puppets from paper and animating them)
The film magic is brought to you by:
🎞 Eha Vari exhibition opening + artist talk
🎞 Anima Sound by Andrej Treumov
🎞 Live music by Analogue Quattro
🎞 Wide range of animafilm screenings
The good mood is set with:
☕️ Sauna in the evening
☕️ Morning coffee & cafe
Place: Narva Art Residence, Joala 18, 20103, Narva, Estonia.
The event is free!
Don't hesitate to contact us with any questions on FB (FUFF – Finno-Ugric Film Festival) or narvaanimapaevad@gmail.com.
The workshops are conducted by Helen Unt and Ethan Barretto.
The organisers of Narva Anima Days: Estonian Animation Union, FUFF – Finno-Ugric Film Festival. Our sponsors: Cultural Endowment of Estonia, Estonian Folk Culture Center, NART, Ministry of Culture.