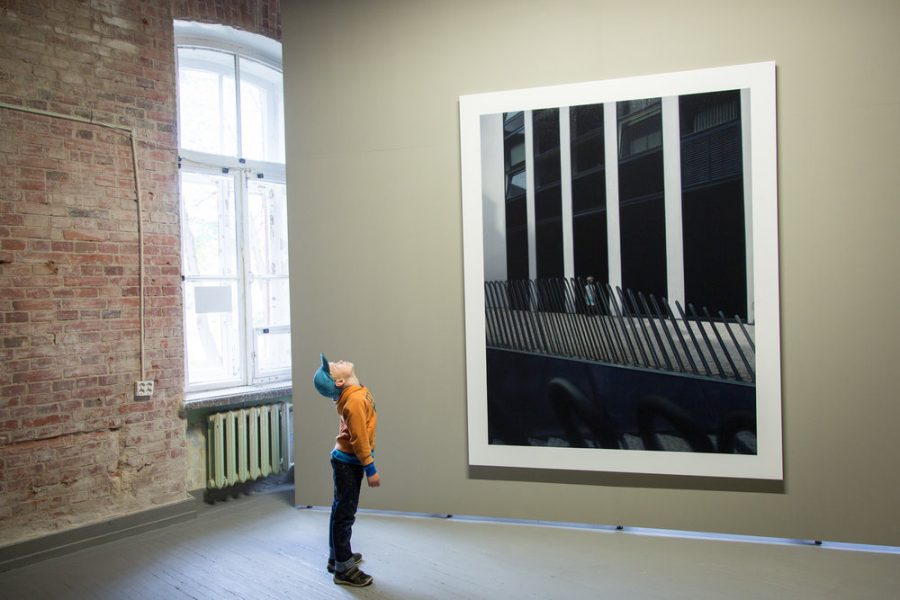 Tõnis Saadoja
ARCHITECTURAL PHOTOGRAPHY WITH A SMALL BOY
September 19 – October 19, 2014
NART – Narva Art Residency
Gallery spaces, 1st floor
Joala 18, 20103 Narva
Hours: Wednesday–Sunday 11.00 – 19.00
#NART #narvaartresidency #tõnissaadojatsau 
On Friday, 19 September at 6 PM Tõnis Saadoja painting exhibition Architectural Photography With a Small Boy – Oil Paintings On Canvas will open in the Kreenholm quarter, a historical district in the border city of Narva, Estonia. Saadoja is one of the most acclaimed artists in Estonia's younger generation. The Narva exhibition is his first solo exhibition in five years and is being organized by the Center for Contemporary Arts, Estonia in cooperating of Narva Gate LCC.
The exhibition presents a series of large photorealist paintings that Saadoja describes as an adult's dramatized look back at childhood. "Being on a quest for the roots of lost perceptions, this series shows us the part of the child that is always grown-up," Saadoja says in explaining his choice of theme. The key recurring element in the works is a small boy posing in front of an architectural motif. The paintings are enlargements of Polaroid photographs staged by the artist. The buildings seen in the paintings include modern edifices and architecture from the artist's 1980s childhood. In the exhibition space, these photos magnified into paintings amplify the sense of disproportion between the buildings in the picture and the young child.
The new works by Saadoja, who won annual prizes from the Cultural Endowment for Estonia's Foundation for Fine and Applied Art in 2006, 2008 and 2012, were painted over a period of three years. The artist was inspired to return to the exhibition scene after a long absence by the chance to exhibit his architectural paintings in the Narva villa of onetime Kreenholm textile plant director John Carr. The historicist villa has been renovated specially for the exhibition and thus is a suitable place for pondering architecture and the passage of time.
The exhibition will be accompanied by an audience programme of Black Nights Film Festival screenings, guided tours through the exhibition venue and the rest of Kreenholm, lectures and concerts. The programme offers different ways to experience art in a single exhibition environment. Besides the programme, art education specialist Anneli Porri has put together an educational programme for children, adults and families. In the week leading up to the exhibition opening, Postimees newspaper will publish a special supplement in Estonian and Russian on Saadoja's works, the publication was compiled by Eero Epner in cooperation with the Center for Contemporary Arts, Estonia.
Exhibition team: Maria Arusoo (project manager); Sten Ojavee (coordinator); Eero Epner (special newspaper section); Viktor Gurov (graphic design); Anne Vetik (public relations); Anneli Porri (education programme); Tõnu Narro, Marten Esko, Tõnis Loorits, Olavi Sander (installation)
Contributors to newspaper supplement: Eero Epner, Aare Pilv, Krister Kivi, Maria-Kristiina Soomre, Sten Ojavee
Organizer: Center for Contemporary Arts, Estonia in cooperation with Narva Gate LLC
Supporters: Akzo Nobel Baltics AS, Eesti Energia, Cultural Endowment of Estonia, Estonian Artists Association, Gambling Tax Council, Black Nights Film Festival, Liviko, Selver
We would like to thank: Madis Tuuder, Laura Toots, Rein Muuluka, Kaidi Vahar, Denis Kuzmin, Paco Ulman, Eha Komissarov, Andres Kurg, Darja Nikitina, Dmitri Ozerkov, Oleg Pissarenko, Arthur Allas, Jaanus Mikk, Maria-Kristiina Soomre, Rebeka Põldsam, Alex Kaska, Rinaldo, Fagerhult, Siim Saadoja, Kaarin Kivirähk, Valmer Pappel,Stanislav Stepaško, Tiiu Parbus,Omniva, Ministry of Culture, Art Museum of Estonia, University of Tartu Narva College, Taisto Bussid, Uustuus and all others who have helped make this project possible.