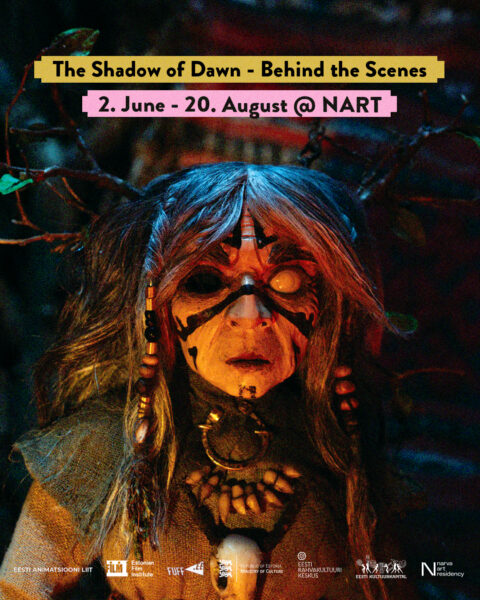 "The Shadow of Dawn – Behind the Scenes"
Opening of the exhibition: 2.06.2023 at 17:00
2.06.-20.08.2023
Narva Art Residency, Joala 18, Narva
Opening hours:
Thu-Fr 15.00 – 19.00
Sat 13.00 – 21.00
Sun 13.00 – 19.00
Entrance: 1€
Artists: Olga Stalev, Triin Paumer
Installation team: Olga Stalev, Triin Paumer, Joanna Juhkam, Liis Kokk, Janis Indans
Curators: Edina Csüllög, Olga Stalev
See the world of original puppets and exquisite set designs, as we unveil the secrets of filmmaking stages. Witness the transformation of a mere sketch on paper into a living, breathing work of art. Whether you're an aspiring filmmaker, a lover of art and craftsmanship, or simply someone seeking a truly unique experience, " The Shadow of Dawn – Behind the Scenes" exhibition promises to captivate and inspire you.

Supported by Eesti Filmi Instituut, Eesti Kultuurkapital, Hvitolg OÜ
The exhibition team would like to thank:
Urmas Jõemees, Ksenia Yakovleva, Liis Säde, Mariia Dudina, Lyza Jarvis, Agnes Milla Bereczki, Mia Rulli