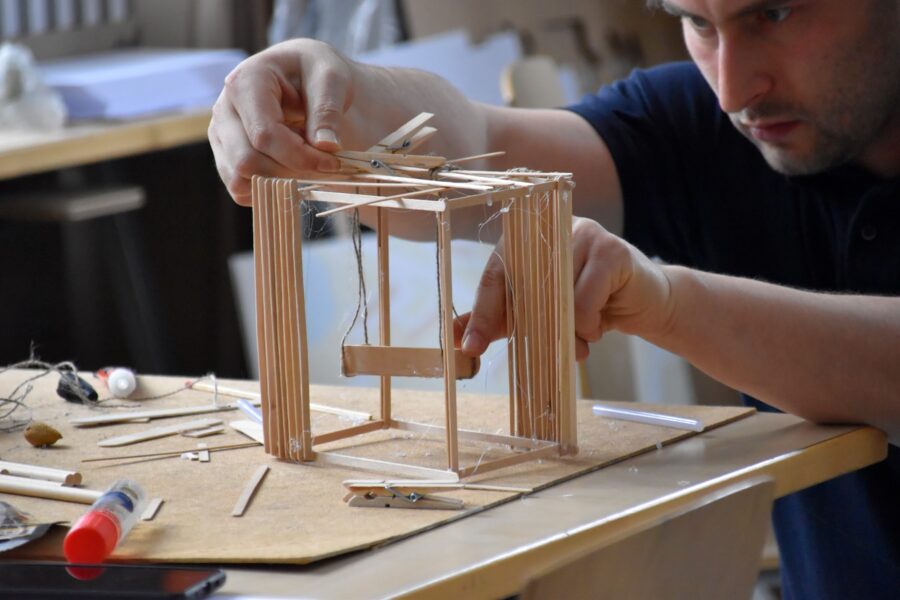 Thursday 26.10 from 16:00 to 18:00
Friday 27.10 from 16:00 to 18:00
Saturday 28.10 from 11:00 to 15:00
Parents of participating children
are also welcome to attend on Saturday.
Participation fee 15 euros.
In October, during the school holidays, Narva Art Residence will be hosting a series of workshops where kids will learn how to make models, mock-ups and create spaces for people and animals.
As part of the workshops, a series of huts of different shapes and sizes will be built in the NART cinema hall. The three-day urban camp is designed for young people aged 10-15 years old. We invite young people to participate in all three days!
School of Architecture is the only hobby school in Estonia offering architectural education in Tallinn, Tartu and Rae municipality. Their classes are aimed at developing spatial thinking, i.e. the ability to notice, explore, and imagine one's living environment. Under the guidance of architects, students will discuss concepts and challenges, build, sketch, draw, etc.
In October, a series of seminars will be held in Narva under the guidance of Katrin Koov and Nadezda Sassina. Katrin is an architect and lecturer, one of the authors of the building of the Tartu University Narva College. Nadezda is a student architecture student from Narva, who recently launched the community project "Chess Tables".
The number of places is limited.
Registration is mandatory. https://fienta.com/et/arhitektuurikooli-tootubade-seeria-noortele-nartis
The workshops are part of the NART Education Activities Project, supported by the British Council's P2P programme