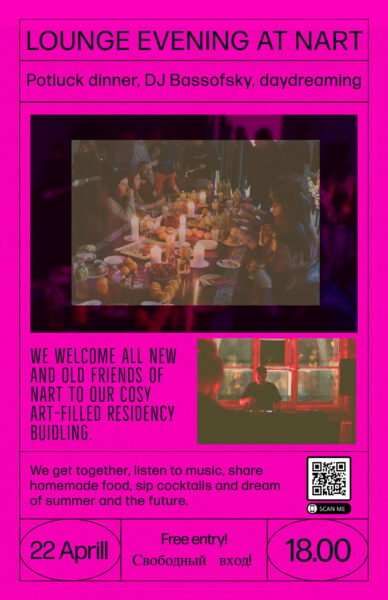 On Saturday 22 April, NART invites everyone to a cosy lounge evening. We get together, listen to music, share homemade food, sip cocktails and dream of summer and the future. The start is at 6PM, and we go on as long as it takes. Free entry!
– Music is by the Narva's own DJ Bassovsky.
– Pies and tea will be provided by our Votic cook and artist Katya.
– We ask everyone to bring a (home-made) dish, such as a salad, boiled potatos, a sweet pie or finger food to share with others. You can also bring something to drink.
– NART assistant Arina will be preparing aperol cocktails to everyone interested
– Director Johanna invites everyone to dream of what the future holds and to think out of the box.
We welcome all new and old friends of NART to our cosy art-filled residency buidling. See you soon!