Jacque Falcheti
(Brazil)
29.08 – 05.10.2022
//BIO
I'm a singer and songwriter from Brazil. I like to create songs that can experiment with different melodic paths, Brazilian rhythms and poetry that translate the simple and deep thoughts, memories about its people and traditions. I play acoustic guitar and pandeiro for to sing and create my songs.
I performed international tours for shows in Europe: Italy, France, Portugal, Spain, Belgium, Holland, Germany and England, in Africa: Tunisia and in Latin America: Argentina, Uruguay and Colombia. I participated in Festivals of music, jazz and choro in the states of São Paulo, Minas Gerais on Brazil, and Portugal, Argentina, Colombia, Italy and others.
//ARTIST STATEMENT
I would like to create 6 new songs with inspiration about the environment of Narva, and the historic village, with the theme "The past memories on the present music".
//EXPERIENCE AT NART
My residency was very inspiring. I created 8 songs at NART during that time. I performed that songs in 3 concerts at NART. I recorded many sounds about the city, the factory, the language and I put that sounds, like a background in my compositions. I recorded many videos at NART and the Factory Kreenholm, and I will release that videos and songs like a result of my residency in the next year.
I met other artists from other countries, people from Narva and I listened many stories that inspired me. My routine during the residency was: listen music from Estonia, Russia, listen history about the city, sounds of Narva, walking around the city, after that I created the songs with my guitar. My project called "Everything is river" brings songs with lyrics in in Portuguese language, it's about how to live life like a river, that means everything pass and it is important to across and enjoy, the time perfect for things to happen and other things such as borders, seagulls, departures.
During my time at Nart I was able to explore other ways of my job, like to manipulate sounds, backgrounds. I could thing different with liberty and I had suport wiht the institution. I thought about borders, different languages, the Ukraine war, the river, the memories, all these feelings are present in my project.
I think my memorable moment was when I visited the factory Kreenholm for the first time. Because during my travel, all the time, I was thinking about: in the time of things, memory, transition, and there I could see the things abandoned, destroyed, and other things intact, a place magic, interested and unfortable. Because of this I created two songs about this visit and those feelings.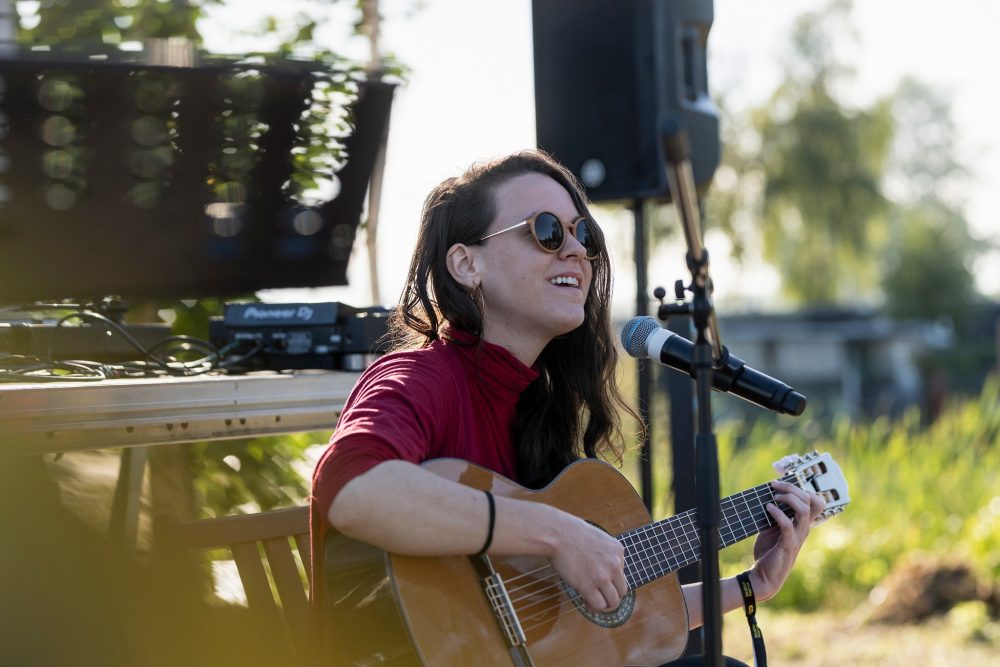 Jacque Falcheti
Singer, composer
links:
jacquefalcheti.com