Jaakko Autio | Finnish Cultural Foundation
(Finland)
09.03 – 31.05.2022
//BIO
I am a sound artist and sound designer (MA). I am from Ylivieska in Northern Ostrobothnia, but I spent my childhood (born 1981) in Senegal, ages 4-10. The citizenship of two countries is present in my way of perceiving reality and creating art. As a nomad citizen of the world, i have found sound to be my homebase. I studied sound design for a film at Hki Metropolia of Applied Sciences 2003-2008 and theater sound design at the Theater Academy's Department of Sound Design 2010-2013 (Teak/Väs/MA).
//ARTIST STATEMENT
My artistic practice is to create big immersive spaces dealing with a person's relationship to another or otherness, as well as a person's desire to merge into a larger whole. This otherness can be different things, for example, another person, Eros, time, or holiness.
I am looking for an artistic partner in Estonia, a choir or group with whom I record singing and social interaction. I bring the small multichannel recording gear with me, so that i can record up to 30 separate individuals at the same time. Id be happy to receive help from the residency curator or cultural producer to get in contact with local social groups such as choirs. The professional quality of the choir does not matter. I am fascinated by exploring and revealing the similarities and differences between Estonians and Finns in an intimate way. I want to gather a small group of people whom i interview on the subject of otherness, after experiencing the work. The dialogue will be a part of the installation afterwards.
//EXPERIENCE AT NART
The three-month residency work included a composition of a full album (Will be presented on Spotify in mid summer 2022), an large scale immersive installation and transportation of Ukrainian war refugees from the Polish-Ukrainian border to refugee centers. I am also particularly impressed that the residency facilities were used to accommodate Ukrainian refugees. Activity tends to prevent a feeling of helplessness in the winds of world geopolitics, where the value and sensitivity of the individual is at stake.
About the artistic practice
During the three-month residency work (01.03-30.5.2022) I created together with three local choirs and one Finnish choir an installation called "On the Border". The premiere of the installation took place in Narva, as part of the Tallinn music week event on 5-8 February 2022. In the immersive work, visitors were able to walk through an abandoned factory built in 1857 amidst 40 speakers, each with their own individuals voice, singing, and breathing. The installation reached about 500-1000 visitors over the weekend.
I worked with the composer/choir director Jussi Mattila, and we created a new version of 1847 Pacius' Anthem song «Maamme laulu / Mu Isamaa» , which we share with the Estonians. The new composition of the national anthem is a gentle and abstract version, with young male voices singing a soft slow tempo, where the recognizable melody clusters of the anthem song visits at random. I was also asked to display the work in the NART gallery from June 22th till September 16th. A small version of the work will also be on display at Kogo Gallery (Tartu 8.9-5.11.2022), Galleria Aarni (Espoo Finland, 1-27.11.2022) and Porvoo Art Factory (Finland 6.12.2022-8.1.2023).
The installation created a kind of utopia, an immersive experiential space in which both the singers and the visitors of the installation merge into a larger whole. Within an aesthetic experience, guilt, fear, and shame leave the way of experiencing oneself and the others. In this case, we are receptive to a reality characterized by empathy and mutual acceptance. From such a circumstance, each visitor can see their own utopia of tomorrow that is not marked by externally absorbed media narratives but rest and shared space.
For more information, photos and videos about the Border Installation, visit: www.jaakkoautio.com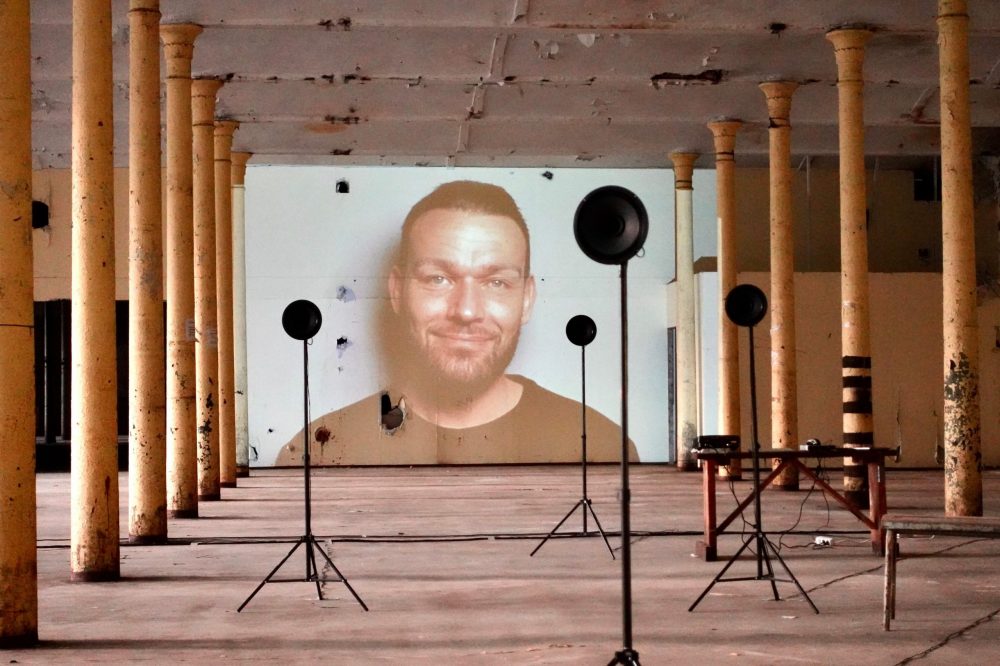 Jaakko Autio | Finnish Cultural Foundation
Light and sound art
lingid:
jaakkoautio.com
skr.fi
The residency is held in cooperation with the Finnish Cultural Foundation which provides a grant to artists from Finland per year. The programme is running from 2022 until 2024. Open calls are organised by HIAP. 
связанные события и выставки