Anne Noble | Point of No Return. Attunement of Attention
24.04 – 20.06.2021
Presenting NART 2021 annual exhibition Point of No Return. Attunement of Attention participating artist:
ANNE NOBLE (1954) is one of Aotearoa's, or New Zealand's, most widely recognised and respected contemporary photographers. Noble has been at the forefront of photographic practice in New Zealand since first attracting
attention in the early 1980s with her acclaimed photographs of the Wanganui River. Noble has since created bodies of work as "essays" or "narratives" that mark her sustained engagement with particular sites and species, most notably her decade-long project on Antarctica. Noble's images are renowned for their beauty, complexity and conceptual rigour and for their persistent inquiry into the methods through which we perceive and come to understand the natural world. Her more recent work has centred on the physiology and contemporary predicament of the honeybee and charts several projects in which Noble has collaborated with researchers and scientists to develop images that articulate the delicate majesty of these beings.
Anne participates in the exhibtion with the artwork The Bee Wing Photograms / Bruissement 1–8 (2017).
Image courtesy of Two Rooms Art Gallery.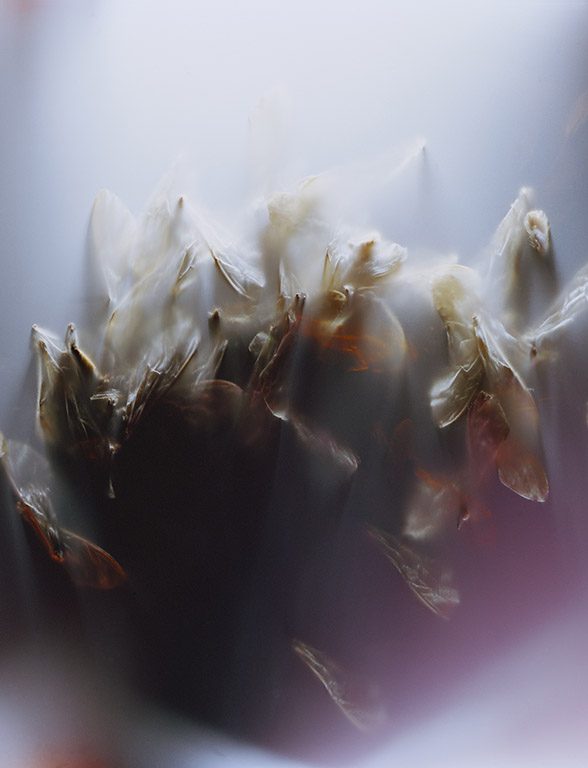 Anne Noble | Point of No Return. Attunement of Attention
/ NZ
coverage:
tworooms.co.nz
related events and exhibitions